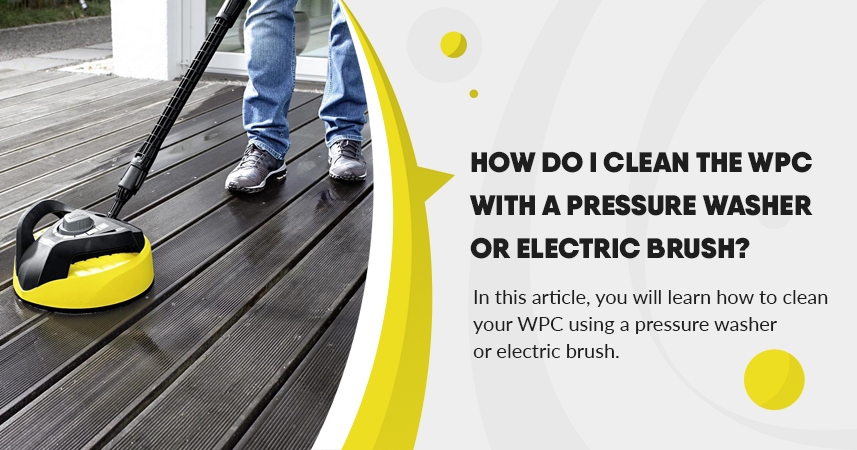 With its ideal properties, the material WPC (Wood Plastic Composites) has gained great popularity as balcony and terrace decking. The pressed mixture of wood fibres, wood flour and the plastics polyethylene (PE) and polypropylene (PP) resists abrasion, stress and precipitation well. Its Achilles heel is water pressure.
High quality tolerates high pressure better
The quality of WPC planks consists mainly in the mixing ratio between wood and plastic and the compaction and pressing of the heated material. The mixing ratios vary between five and fifty percent plastic content versus the wood fibres and wood flour contained.
As with other materials, quality levels provide for lower or higher resilience. The expected lifespan for the cheapest products is ten years and for top-quality products thirty years. When a high-pressure cleaner is used for cleaning, this quality determines sensitivity and compatibility.
Also of interest: Clean concrete blocks with or without pressure washer
WPC can wash out
If suppliers and manufacturers of WPC tiles explicitly state the use of a high-pressure cleaner, special attention must be paid to the pressure, just as when cleaning paving stones.
In principle, too high an impact pressure can wash out the material or the wood fibres. The following procedures should be followed:
Maximum impact pressure eighty bar, which corresponds to a set nominal pressure of about 100 bar.
Keep a distance of at least thirty centimetres
Always spray in the direction of the grooves that are almost always present on the surface to prevent frictional pressure.
Cleaning with a pressure washer can have a negative effect on the life of WPC decking boards.
Also of interest: Clean stone slabs with or without pressure washer
Alternative electric cleaning brushes
There are special round brushes that are clamped into a cleaning head with a handle. They are somewhat reminiscent of floor brushes for indoor use. Vinyl brushes rotate when moving on the WPC floorboards. This kind of load does not bother the material and is similar to the comfort of a high-pressure cleaner.
Similar to a high-pressure washer, the devices can be used on all kinds of surfaces and consist of a simple and technically less susceptible mechanism. An attachment for cleaning joints is usually included in the scope of delivery.
Steam cleaners and pressure washers with a hot function can reach the melting temperature of the plastic they contain of about 200 degrees Celsius. This aspect should also be taken into account.