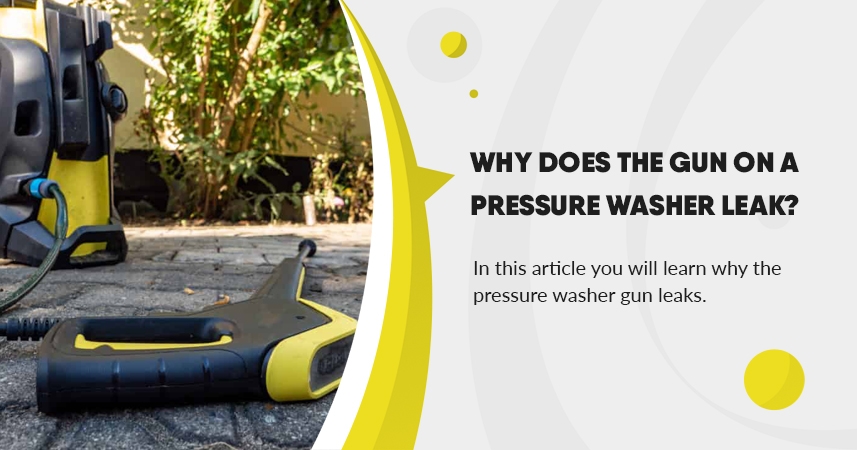 If the gun on the pressure washer leaks, the same problem arises as with any other defect that must be located and repaired. The gun must be opened in any case, which is not easy in all cases. It becomes really difficult when a kind of "no-name" product does not offer the possibility to organise spare parts.
Also of interest: Best Pressure Washer Spray Guns
Repairable and disposable guns
Pressure washers can be divided into two groups. Gun-type units, which are made of listed spare parts and can be repaired by opening them. Closed and sometimes riveted constructions are only listed as a coherent single spare part.
As a tendency, the design can be made dependent on the price. The more expensive a pressure washer is, the more likely it is that the gun can be repaired and the individual spare parts are available. To repair the gun of the pressure washer, about 15 individual parts inside have to be taken into account and the housing has to be checked for leaks.
Most frequent cause of leakage
A gun often leaks due to just one small thing. The O-sealing ring on the hose connection is a typical wearing part that causes the high-pressure cleaner to become defective.
Also of interest: Repairing the pump yourself in the pressure washer
Sometimes no sources of supply for spare parts known
No-name products or very cheap own brands, such as those offered by discounters, do not always offer sources for spare parts, especially for older units. However, it is always worthwhile to research similar models. The design and construction of the pistols are similar in some manufacturers and by having a second pistol you can use it as a kind of individual spare parts store.
When ordering a new gun, pay attention to the two crucial dimensions, the cross-sections of the hose connections. For double security, measuring with a caliper and explicitly mentioning it during the ordering process saves a costly and time-consuming return. Also pay attention to special connection types such as quick or click connections. They must be compatible. Some manufacturers offer additional adapters.
Actually, there is a size standard for gun connections of M22x1.5 or M14x1.5. In the area of professional machines (for example Kärcher), these dimensions are adhered to, even with adapters. In the range of tools for private households and gardens from Black& Decker, Wilks, RocwooD, Kärcher, Lavor, Nilfisk and Parkside, there are usually only brand-internal adapters. Some Bosch tools can be used with guns from Kärcher and Nilfisk. The largest selection of adapters is oriented towards Kärcher.