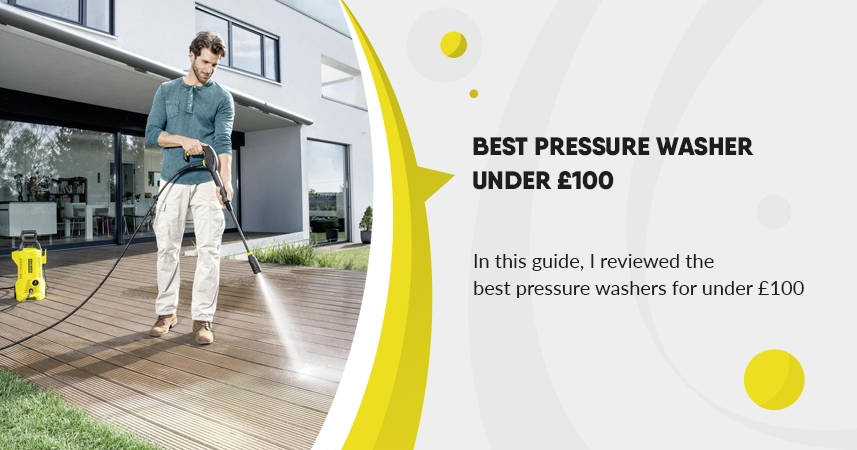 In this guide, I reviewed the 5 best pressure washer for under £100 in UK. I compared engine power, water pressure, machine weight, hose length, flow and cost to give you my best recommendations.
MAXIMUM WATER PRESSURE (BAR)
Power (W)
MACHINE WEIGHT (KG)
HOSE LENGTH (M)
Pressure washers under £100 are a very sensible purchase for the home and garden. They allow cleaning work to be done quickly and conveniently. Although stubborn dirt can be removed, you hardly need to exert any force yourself. No other device offers the possibility to carry out such comprehensive cleaning actions.
Pressure washer under £100 – Here's what to look for when choosing
Water pressure
The water pressure plays a very important role in the selection. The higher the water pressure, the easier it is to remove stubborn dirt. It is expressed in bar. For electric models, the pressure is usually between 80 and 200 bar. With this pressure, all kinds of cleaning work can be done in the garden and around the house.
Devices up to £100 often generate a water pressure of just over 100 bar. Even with this, a wide range of dirt can be removed. Examples are moss, mud and sand. For rock-hard chewing gum, the power may no longer be sufficient.
Incidentally, high-pressure cleaners in industry have a capacity of up to 2000 bar. Such devices can even cut rock and metal. For comparison: a garden hose generates a pressure of 3-4 bar.
Area performance
You should also pay attention to the area coverage. The greater it is, the faster large areas can be cleaned. In most cases, the manufacturers provide their machines with a direct indication of this. If the area output is 50 m²/hour or more, extensive terraces, facades and certain areas on farms can be cleaned in a comfortable period of time.
However, because models under £100 have a relatively small area output, they are more suitable for small and medium-sized areas. An indicator in this context is also the delivery rate. With electric models, it is usually between 300 and 600 litres/hour. A high flow rate not only makes it easier to maintain large areas, but is also more energy-efficient. Accordingly, costs are saved on a pro rata basis.
Handling
Handling should also be considered when making a choice. Basically, you should pay attention to the dimensions and the weight. In this price segment, the units often weigh less than 15 kg, which means you can work without much effort. If they are compact, they can also be stored in a space-saving way. You should make sure that the unit is equipped with a carrying handle. In this case, you can transport it in an ergonomic posture. For heavier models, it is also advisable to use castors on the housing.
If the lance and accessories can be stowed on the unit, no individual parts will get lost, which saves you having to search for them. Furthermore, the high-pressure cleaner should of course be easy to operate. The work is particularly comfortable if you can change the jet and the pressure directly at the jet pipe. This eliminates interruptions that would otherwise occur when changing the attachment.
Drive
High-pressure cleaners can be petrol-driven or electric. The most common are the electric models. They are operated via a power cable. In the £100 segment, the motors have a power rating of up to 2000 watts. Electric models are easy to handle because they are lightweight. Because they are compact, they can also be stored in a space-saving way. In addition, they are not as noisy in operation and are kinder to the environment.
From this list you can choose any high pressure washer you like, these are the 10 most popular high pressure washers under £100.
Petrol-driven high-pressure cleaners are very powerful and suitable for cleaning large areas. Their disadvantages are their heavy weight and the noise they make. They also emit a lot of emissions. However, you can't buy a petrol-powered pressure washer for less than £200 anyway.
There are also devices that run on a rechargeable battery. They are particularly mobile and can even be used in the wilderness, provided they have a suction hose for water sources. A high-pressure cleaner with a rechargeable battery is not too expensive, but its performance is also very limited. It usually has a pressure of less than 30 bar, which is why only superficial dirt such as mud and sand can be removed.
Cleaning agent
Usually, pressure washers up to £100 are fed with the cold water from the tap. This can be used to carry out extensive cleaning work. It is environmentally friendly and ensures that the spray water does not pose a direct health hazard.
An alternative is hot water. This has a stronger effect on the surface and is therefore better at removing stubborn dirt. It is an effective solution for lichens, for example. However, it should be noted that some objects, such as sensitive woods, do not tolerate hot water. Moreover, not every high-pressure cleaner can be operated with hot water. The manufacturer will give a specification to this effect.
If you want to combat particularly stubborn dirt, you can also use chemical cleaning agents. They are filled into a tank and dispensed onto the surfaces during operation, diluted with the water. They work very aggressively, which is why they have a certain environmental impact. They should therefore be used with caution. In addition, one should avoid excessive contact with the spray water.
Best Pressure Washers Under £100
Kärcher K2 Compact Air-Cooled Pressure Washer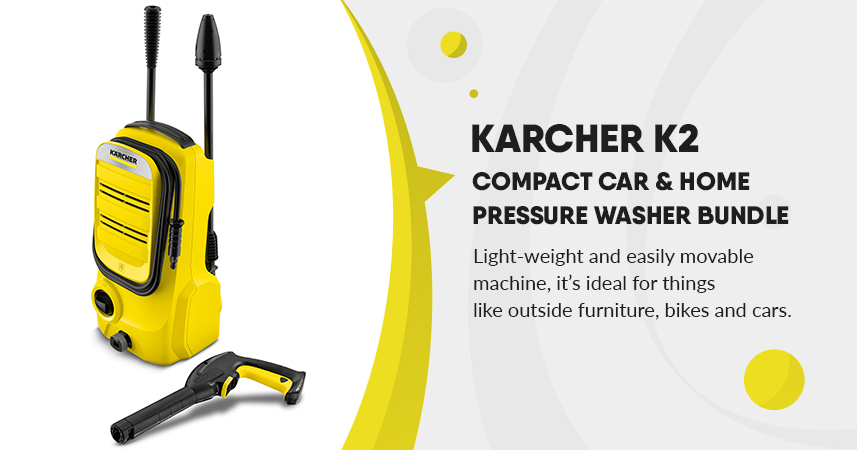 This small and lightweight portable device is extremely easy storable and blast everything and anything. Because of its Dirt blaster Lance this machine has up to 50% greater cleaning power than a standard lance, which is usually supplied with the standard jet washer. It has a perfect switch sense control button that turns the engine on and off whiles you pressing or depressing the trigger gun. It has a well-designed and extremely useful built-in filter that prevents dirt particles from flooding into the motor and pump.
Karcher K2 branded best pressure washer was mostly designed by German engineers for the most common use in the smaller areas such as garage or house on objects such as car, riveways, bicycle or furniture. It is also fully compatible with usage of water source such as a water butt tap.
Most common benefits of the Karcher K2 Pressure Washer Reviews
Automatic Motor – ability of automated turning on/off of the motor, when we cleaning;
Water filter – prevents our washer from all kind of damaging materials;
Power – It has a 1400 Watt fully air-cooled motor;
Size – One of its biggest advantages is easy storage. It has One Way Lance, Dirt blaster and a power cable;
Detergent chamber – it has an extra space fully designed to store soap or any detergent to help you with your cleaning process;
What accessories can we expect in the box?
High pressure hose – 4 meters high hose connected to trigger gun and the washer;
One Way Lance – Constant high-pressure jet ideal for cleaning a variety of surfaces including cars, patios and decking.
Dirt blaster – This is a powerful rotary nozzle designed with a rotating pencil jet which provides up to 50% greater cleaning power than a standard high pressure lance, for instance used for removing stubborn dirt on moss covered or weathered surfaces.
Here is the full description of what you will receive with this model of pressure washer:
Adapter garden hose
Water filter
4m hose
One Way Lance
Dirt Blaster
And finally Trigger gun.
Nilfisk C110 4-5 PC Xtra Compact High Best Pressure Washer with Patio Cleaner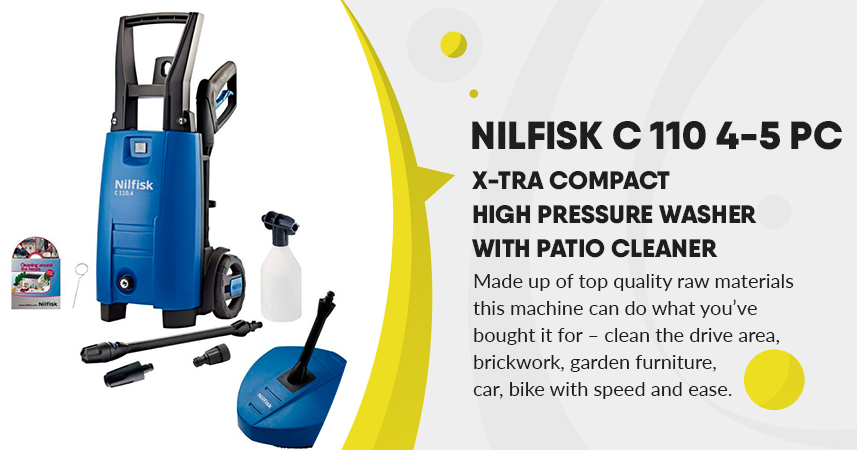 Actually to begin with Nilfisk is one of the biggest producers of cleaning equipment in the entire world, providing the highest quality of their products, which are usually chosen by many professionals. This company was actually the first one in the UK supplying pressure washers for domestic use.
The C110 model made of highest quality materials will easily clean the patio, drive, brick work, car, bicycle and much more with speed and ease.
Here is the list of what exactly we can expect from this model:
Click and clean – Is a new feature that in the matter of seconds allows you to switch between the different accessories.
Metal Pump – Made of Aluminium makes the machine to last long maintaining great performance.
Spray Lance – 360 degrees rotation with the built-in pressure nozzle to flush away the dirt.
Automatic start and stop function – The auto start-stop alongside the thermal sensor cut out protects the motor/pump and saves water.
Accessory storage – enough space for spray gun, nozzles, lance and a detergent bottle.
Works perfectly from Water Butt Tap
Has a Pre-fitted Water Inlet filter
Here is the standard list of accessories:
5 meters long hose
Click and clean extension Lance with 360 degrees rotation
Click and Clean Foam Sprayer and Bottle – suitable for any detergent
Universal Male Click Connect Hose Pipe Connector
Nilfisk C110 sepcifications:
Very powerful airy – cooled 1400W motor and long life Aluminium pump
110 bar pressure with 440 litres per hour water flow high cleaning power
Built on wheels, very easily movable
Easy to use Click and Clean connectors with Quick and Swivel coupling
2 year warranty by a producer
Bosch AQT 37-13 High Pressure Washer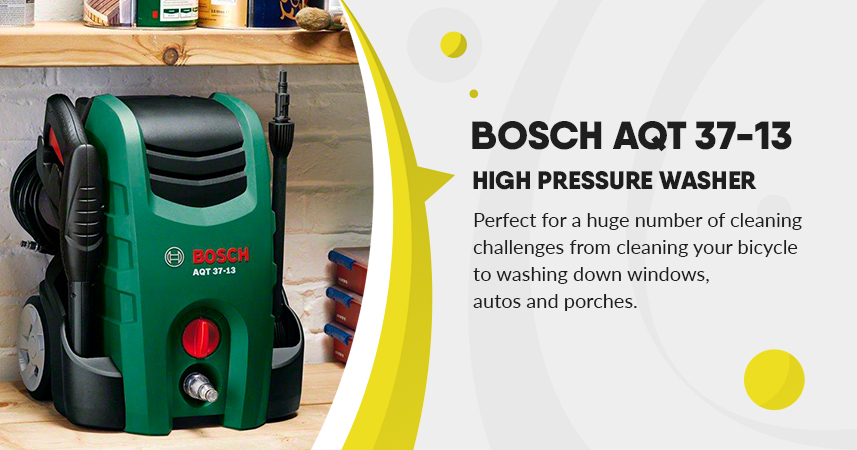 This well designed Bosch AQT 37, has the most positive number of pressure washer reviews and offers effortless cleaning solutions for any household. It has a 1700 Watt motor with the Auto-stop function making this model the best solution for cleaning cars, patios, bikes and windows with the maximum satisfaction.
Special features:
Power and Energy – The 1700 Watt motor with a maximum pressure of 130 bar making it ideal for daily basis cleaning routines. The flow rate of 370 litters per hour makes it extremely easy to remove dirt from everyday used objects. The auto- stop system will save you money by switching off the pump when is not in use.
SDS fitting – most common but extremely important 'click and go' feature will quickly connect the fittings without any complicated assemblies.
Lightweight – Made on wheels and lightweight to make the transport and storage on high standards.
Accessories:
3 in 1 nozzle
High pressure fan
Rotary jet
Low pressure soap settings
Conclusion
Inexpensive high-pressure cleaners offer advantages in handling. They are lightweight and compact. This means that they can also be moved around by women and senior citizens without much effort. In addition, they can be stored in a space-saving way and are ready for use just as quickly as they are stowed away again.
The light weight is due to the use of many plastic parts. This can lead to problems such as increased wear and tear. Inexpensive products simply do not last as long, which is why they are more suitable for occasional use. If you want to work a lot with the pressure washer, you should spend a little more. High-quality models have robust brass and ceramic parts and can withstand adverse conditions.
Furthermore, the performance is limited. A light weight goes hand in hand with a small motor. A pressure washer under £100 rarely has more than 120 bar. But this is definitely enough to remove moderate dirt. Stubborn lichen, tree sap and the like probably cannot be removed satisfactorily.
In addition, pressure washers under £100 are only suitable for small areas. Large terraces or facades are out of the question because the work would take a lot of time. Devices with a high flow rate are appropriate in this case.