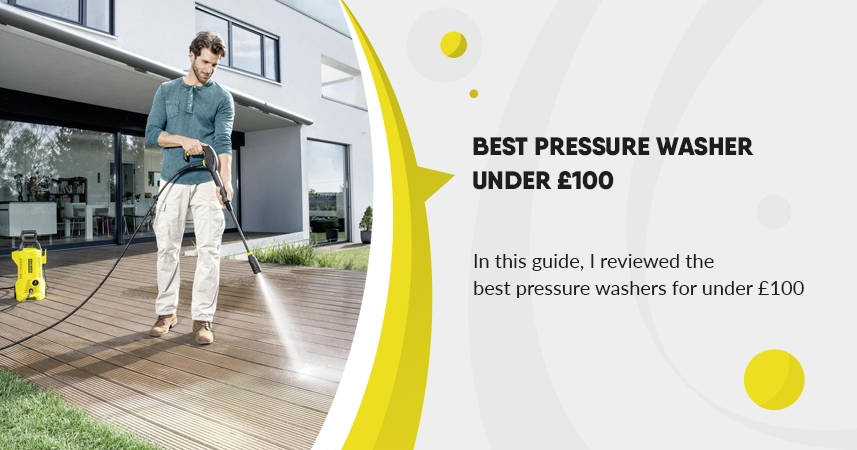 In this guide, I reviewed the 3 best pressure washer for under £100 in UK. I compared engine power, water pressure, machine weight, hose length, flow and cost to give you my best recommendations.
MAXIMUM WATER PRESSURE (BAR)
Power (W)
MACHINE WEIGHT (KG)
HOSE LENGTH (M)
MOST POWERFUL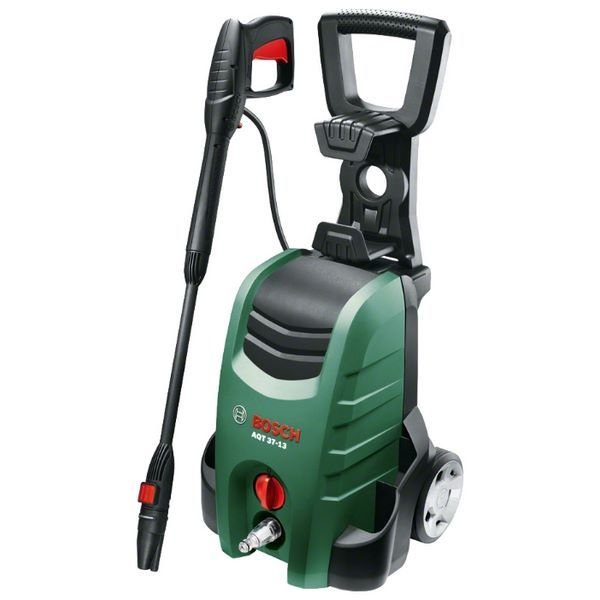 Bosch AQT 37-13
Check Prices
MAXIMUM WATER PRESSURE (BAR)
130
LIGHT WEIGHT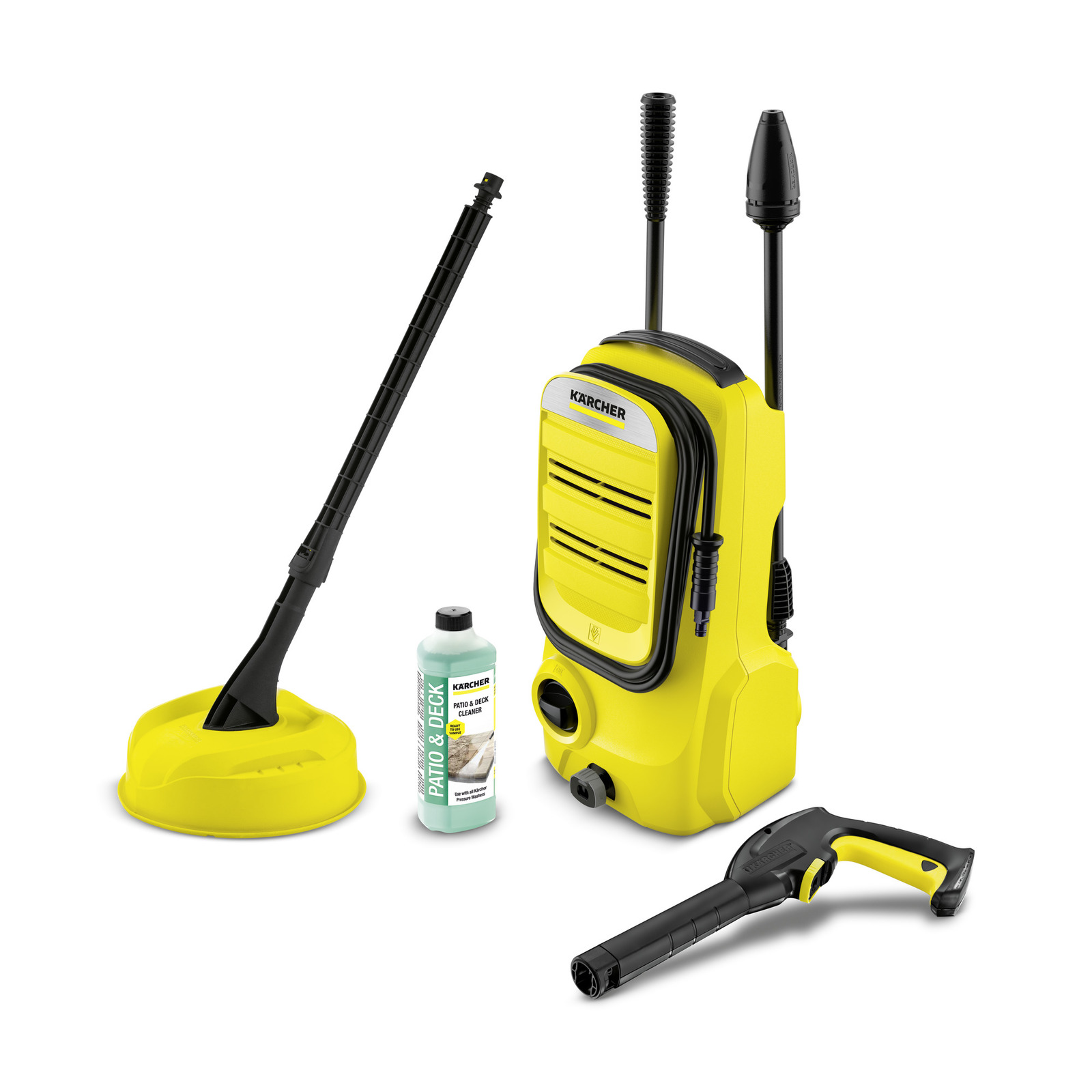 Kärcher K 2
Check Prices
MAXIMUM WATER PRESSURE (BAR)
110
Manoeuvrability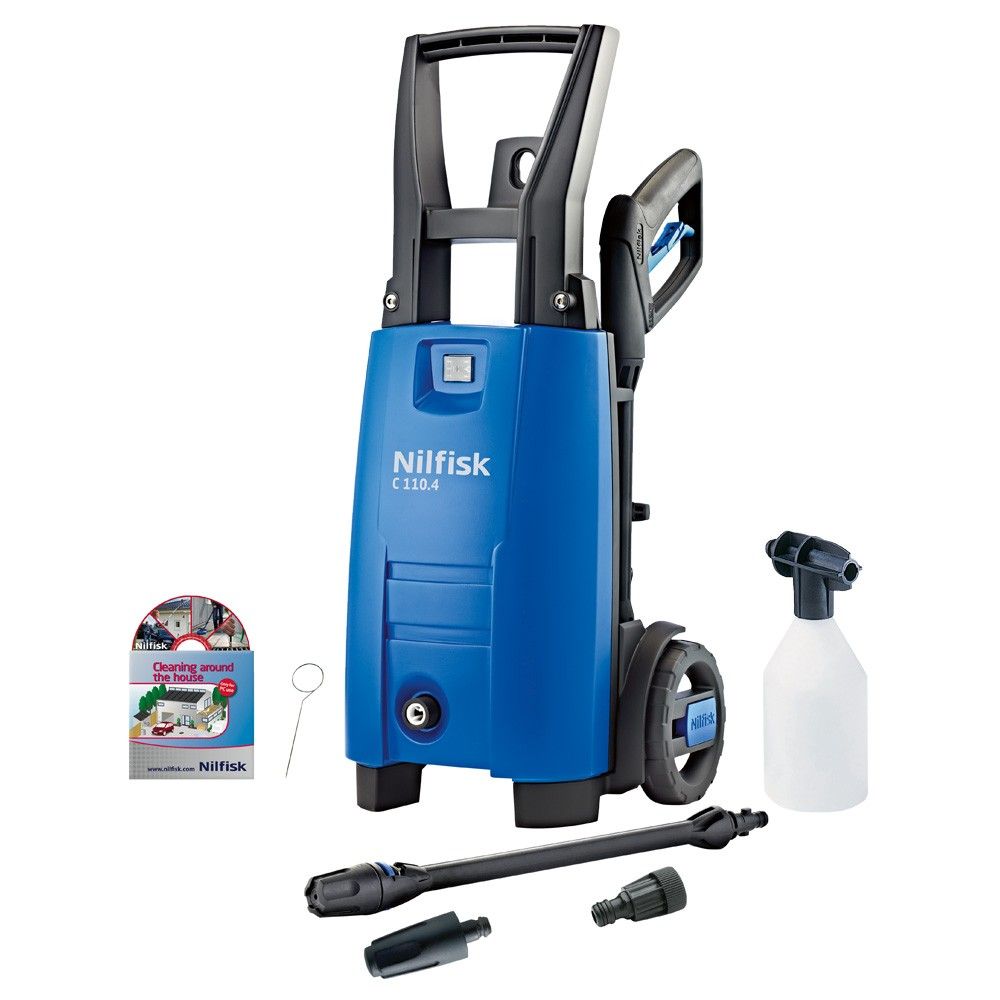 Nilfisk C110
Check Prices
MAXIMUM WATER PRESSURE (BAR)
110
Best Pressure Washers Under £100
Kärcher K2 Compact Air-Cooled Pressure Washer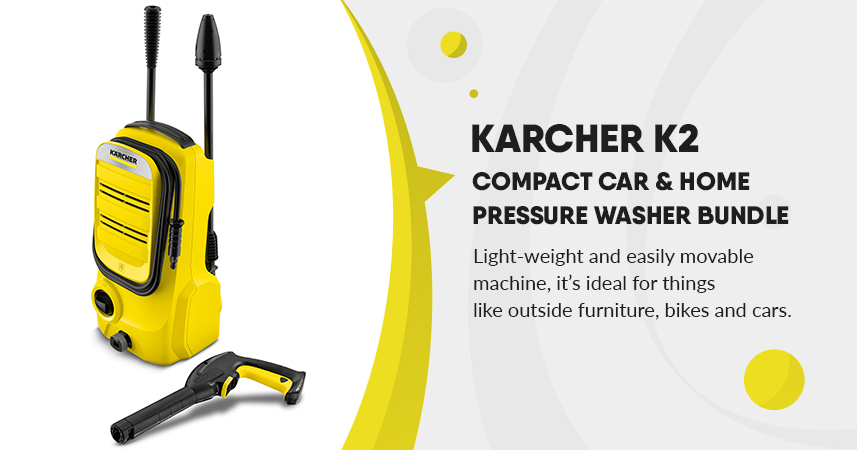 This small and lightweight portable device is extremely easy storable and blast everything and anything. Because of its Dirt blaster Lance this machine has up to 50% greater cleaning power than a standard lance, which is usually supplied with the standard jet washer. It has a perfect switch sense control button that turns the engine on and off whiles you pressing or depressing the trigger gun. It has a well-designed and extremely useful built-in filter that prevents dirt particles from flooding into the motor and pump.
Karcher K2 branded best pressure washer was mostly designed by German engineers for the most common use in the smaller areas such as garage or house on objects such as car, riveways, bicycle or furniture. It is also fully compatible with usage of water source such as a water butt tap.
Most common benefits of the Karcher K2 Pressure Washer Reviews
Automatic Motor – ability of automated turning on/off of the motor, when we cleaning;
Water filter – prevents our washer from all kind of damaging materials;
Power – It has a 1400 Watt fully air-cooled motor;
Size – One of its biggest advantages is easy storage. It has One Way Lance, Dirt blaster and a power cable;
Detergent chamber – it has an extra space fully designed to store soap or any detergent to help you with your cleaning process;
What accessories can we expect in the box?
High pressure hose – 4 meters high hose connected to trigger gun and the washer;
One Way Lance – Constant high-pressure jet ideal for cleaning a variety of surfaces including cars, patios and decking.
Here is the full description of what you will receive with this model of pressure washer:
Adapter garden hose
Water filter
4m hose
One Way Lance
Dirt Blaster
And finally Trigger gun.
Nilfisk C110 4-5 PC Xtra Compact High Best Pressure Washer with Patio Cleaner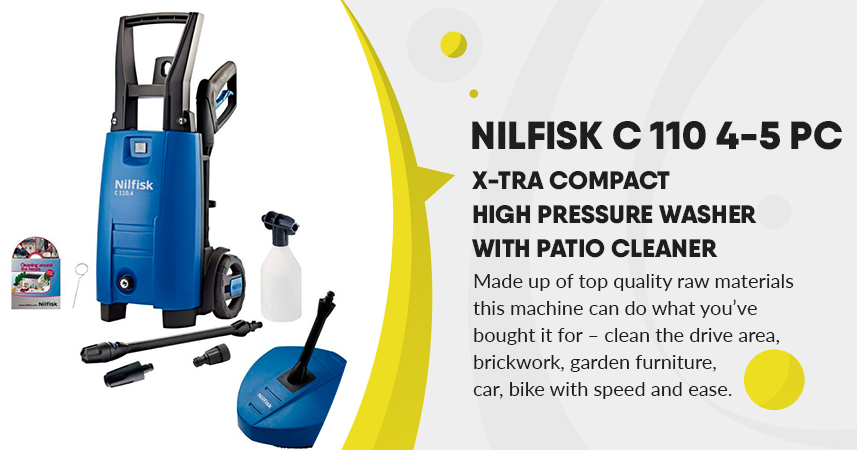 Actually to begin with Nilfisk is one of the biggest producers of cleaning equipment in the entire world, providing the highest quality of their products, which are usually chosen by many professionals. This company was actually the first one in the UK supplying pressure washers for domestic use.
The C110 model made of highest quality materials will easily clean the patio, drive, brick work, car, bicycle and much more with speed and ease.
Here is the list of what exactly we can expect from this model:
Click and clean – Is a new feature that in the matter of seconds allows you to switch between the different accessories.
Metal Pump – Made of Aluminium makes the machine to last long maintaining great performance.
Spray Lance – 360 degrees rotation with the built-in pressure nozzle to flush away the dirt.
Automatic start and stop function – The auto start-stop alongside the thermal sensor cut out protects the motor/pump and saves water.
Accessory storage – enough space for spray gun, nozzles, lance and a detergent bottle.
Works perfectly from Water Butt Tap
Has a Pre-fitted Water Inlet filter
Here is the standard list of accessories:
5 meters long hose
Click and clean extension Lance with 360 degrees rotation
Click and Clean Foam Sprayer and Bottle – suitable for any detergent
Universal Male Click Connect Hose Pipe Connector
Nilfisk C110 sepcifications:
Very powerful airy – cooled 1400W motor and long life Aluminium pump
110 bar pressure with 440 litres per hour water flow high cleaning power
Built on wheels, very easily movable
Easy to use Click and Clean connectors with Quick and Swivel coupling
2 year warranty by a producer
Bosch AQT 37-13 High Pressure Washer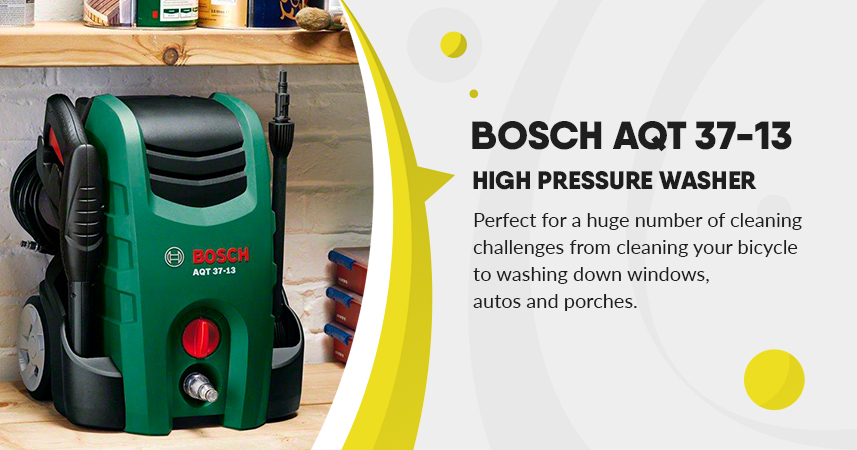 This well designed Bosch AQT 37, has the most positive number of pressure washer reviews and offers effortless cleaning solutions for any household. It has a 1700 Watt motor with the Auto-stop function making this model the best solution for cleaning cars, patios, bikes and windows with the maximum satisfaction.
Special features:
Power and Energy – The 1700 Watt motor with a maximum pressure of 130 bar making it ideal for daily basis cleaning routines. The flow rate of 370 litters per hour makes it extremely easy to remove dirt from everyday used objects. The auto- stop system will save you money by switching off the pump when is not in use.
SDS fitting – most common but extremely important 'click and go' feature will quickly connect the fittings without any complicated assemblies.
Lightweight – Made on wheels and lightweight to make the transport and storage on high standards.
Accessories:
3 in 1 nozzle
High pressure fan
Rotary jet
Low pressure soap settings