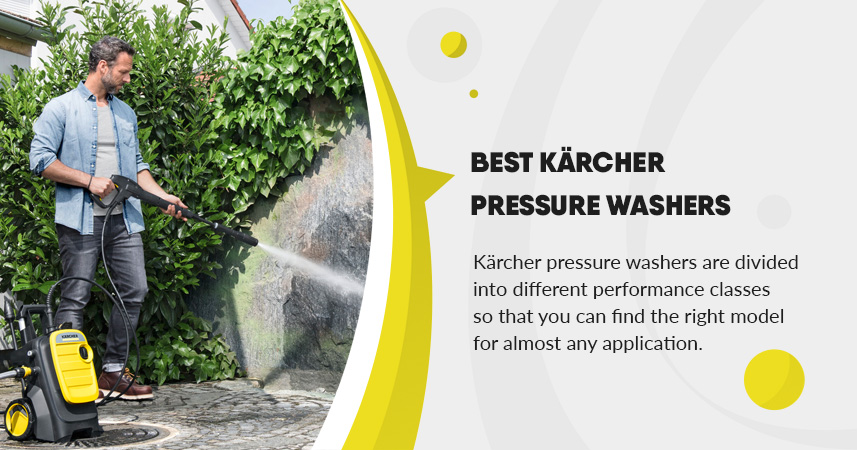 Kärcher pressure washers are divided into different performance classes so that you can find the right model for almost any application. It is important that the water pressure is sufficiently high to avoid disappointment during demanding cleaning jobs such as patio slabs or facades.
5 Best Kärcher Pressure Washers
Best Kärcher Pressure Washers in UK
The Karcher K7 Premium Full Control Plus Home Pressure Washer is a high-performance cleaning machine that delivers exceptional power and versatility. With its impressive maximum pressure of 180 Bars, it can handle the toughest cleaning tasks with ease. The included T 450 surface cleaner and stone and facade detergent provide efficient cleaning solutions for large areas and stubborn stains. While the weight and cord length may pose some limitations, the K7 Premium is a reliable and powerful pressure washer that is ideal for homeowners seeking professional-grade cleaning performance.
The Kärcher K2 Compact Car & Home Pressure Washer is an excellent choice for users seeking a lightweight and versatile cleaning solution. With its compact design, high-pressure hose and gun, and included accessories like the dirt blaster and spray lance, it provides precise and efficient cleaning performance. Although not intended for heavy-duty tasks, this pressure washer is perfect for maintaining the cleanliness of your car, patio, and other small to medium-sized surfaces. The added convenience of the water filter ensures a smooth and prolonged operation.
The Kärcher HDS 6/12 C is an excellent hot water pressure washer that delivers powerful performance in a compact and easy-to-use package. With its high-pressure output, high flow rate, and variable pressure control, this machine is perfect for a wide range of cleaning tasks. If you need a hot water pressure washer that can deliver reliable, powerful performance day in and day out, the HDS 6/12 C is definitely worth considering.
The Kärcher K 7 Premium Smart Control Home High-Pressure Washer is a powerful and advanced cleaning tool that delivers outstanding performance and convenience. With its adjustable pressure, high flow rate, and efficient surface performance, it effectively tackles dirt and grime on various surfaces. The inclusion of the T 7 surface cleaner, 3-in-1 Multi Jet spray wand, and Home Kit enhances its versatility and cleaning capabilities. While the weight may be a consideration for some users, the overall performance and features make it a worthwhile investment for those seeking professional-level cleaning results.
The OC 3 Plus model comes with a car adapter for the charger, making it easy to charge the unit on the go. With a compact design and weighing only 2.2 kg, it can be easily carried and transported to any location, making it ideal for use on cars, bikes, boats, and other outdoor equipment.
The Kärcher K4 Premium Eco Home Water-Cooled Pressure Washer is a powerful and efficient cleaning tool designed for both heavy-duty and everyday cleaning tasks. With a pressure of 130 bar and a water flow rate of 420 liters per hour, this pressure washer delivers impressive cleaning performance.
The KHB 6 Battery has a maximum pressure of 24 bar and a flow rate of 200 L/h, making it perfect for cleaning patios, cars, and garden furniture. It also comes with a 0.4L water tank, providing users with the ability to clean for extended periods without the need for refilling.
The Kärcher K 4 Power Control High Pressure Washer is a reliable and efficient cleaning tool for a variety of cleaning tasks. With its adjustable pressure settings, versatile accessories, and lightweight design, it offers convenience and flexibility during operation. The Plug n' Clean system allows for easy application of cleaning agents, further enhancing its cleaning capabilities. While the flow rate and surface performance may not be the highest in its class, the overall performance and features make it a practical choice for homeowners. With a 2-year guarantee, you can trust in the durability and longevity of this pressure washer.
The Kärcher K 4 Compact Pressure Washer offers a powerful and compact solution for your cleaning needs. Its lightweight and portable design, coupled with adjustable pressure control and a high flow rate, ensures efficient and effective cleaning performance. With convenient features such as integrated detergent suction and onboard storage, this pressure washer offers ease of use and versatility. While it may not be the ideal choice for heavy-duty cleaning tasks, the Kärcher K 4 Compact is a reliable and practical option for homeowners.
The Kärcher K 5 Power Control Car & Home Pressure Washer is a powerful and versatile cleaning tool designed to make your outdoor cleaning tasks effortless and efficient. With a maximum pressure of 145 bar and a 10m high-pressure hose, this pressure washer can tackle even the toughest cleaning jobs.
Buying a Kärcher pressure washer – the right model for every cleaning task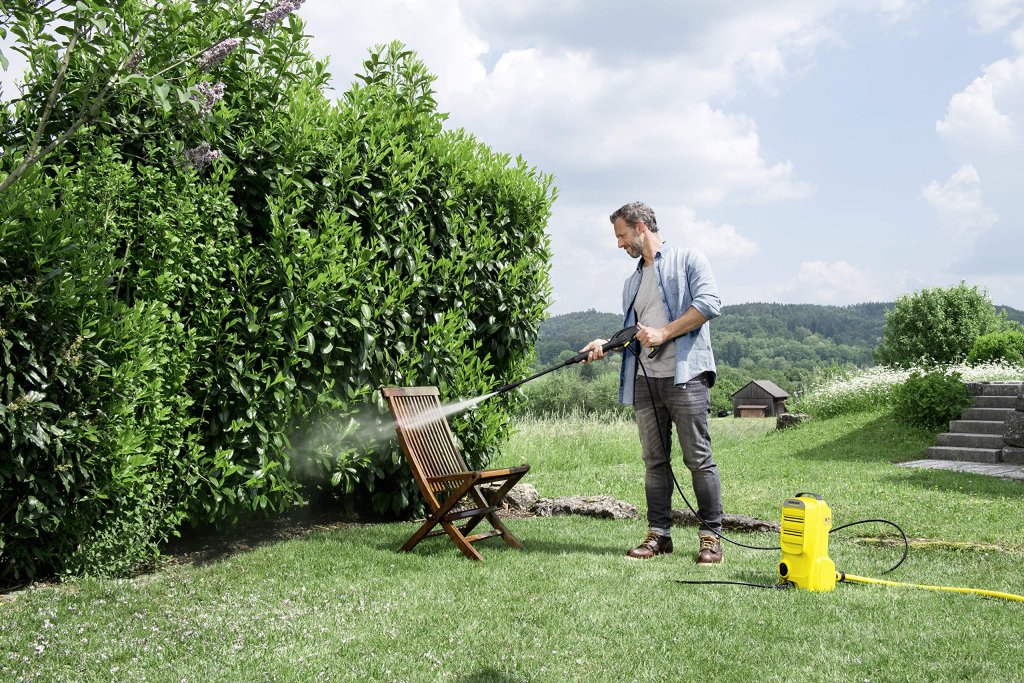 Especially in the garden, various types of dirt accumulate that are difficult to clean with water, detergent and a brush. Surfaces such as plastic garden chairs can perhaps be cleaned in this way to a certain extent, but floors made of concrete or paving stones become an ordeal.
In such cases, a high-pressure cleaner is the better alternative. Kärcher pressure washers are very well suited for these tasks and have the necessary features. Thanks to the different performance classes, even larger cleaning operations on surfaces that are difficult to clean are possible without any problems.
In addition to the power class, factors such as the power supply and the level of water pressure play a role when buying. In addition, there are the necessary accessories and other features about which you should inform yourself beforehand. Spare parts are available directly from Kärcher in case something breaks.
What is special about a Kärcher pressure washer?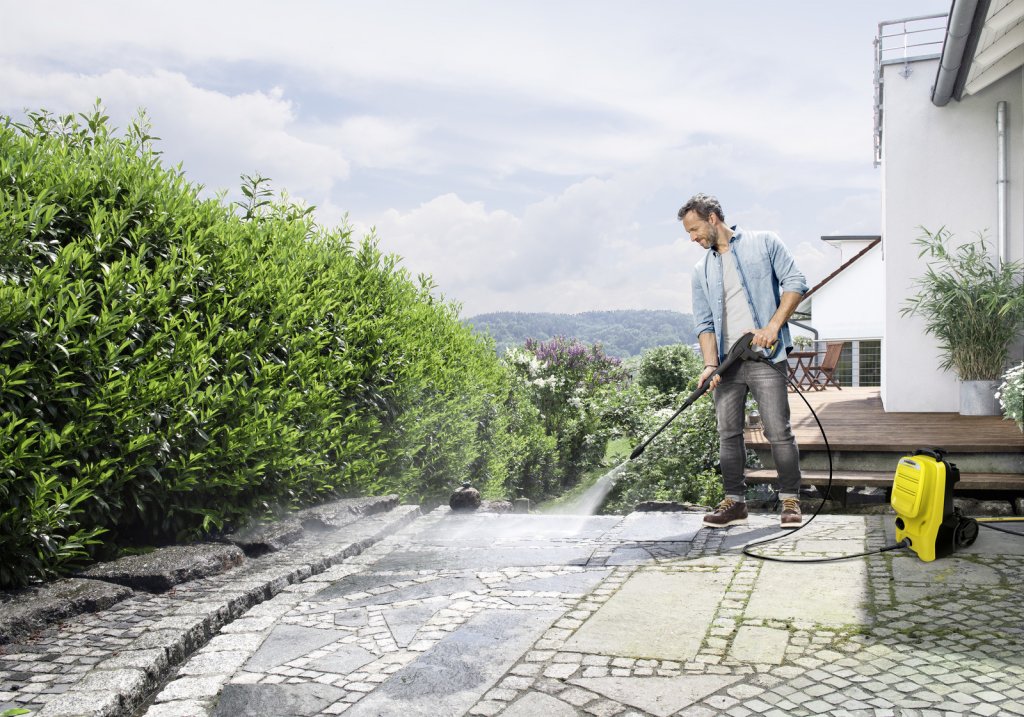 Among the manufacturers, Kärcher is one of those who played a major role in the development of the pressure washer. The first model for cleaning with hot water was developed in 1950. Today, Kärcher owns about 602 active patents and is a few steps ahead of other manufacturers on the market in terms of the pressure washer.
The company not only offers a very large selection of models with different performance classes. The special thing about a Kärcher pressure washer is that the cleaning performance is not only economical, but the result is also convincing.
The devices are also particularly efficient when, for example, grease or oil needs to be removed. Proteins are a problem for other cleaning devices. Already encrusted dirt can be easily removed with the various Kärcher models.
If a device from the manufacturer with hot water is also used, the result is perfect.
For which tasks a pressure washer is suitable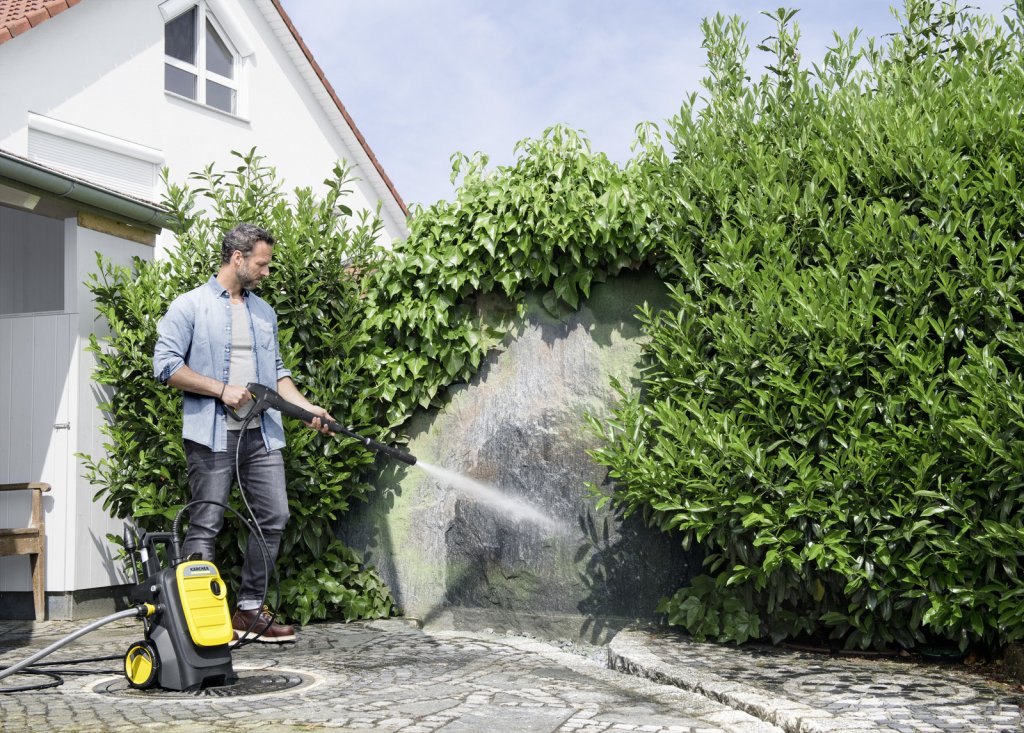 In general, Kärcher pressure washers are suitable for all cleaning tasks in the garden. This includes smaller tasks such as cleaning the bicycle as well as removing dirt from the patio.
The power class plays a major role here. It indicates how much pressure the high-pressure cleaner develops and thus for which tasks it is suitable. Here is an overview of the different power classes from Kärcher and what they are suitable for.
It is important to remember that the price usually increases with the power class. Nevertheless, before buying, you should think carefully about what tasks you want to do with the device and then decide on the right power class.
What types of Kärcher pressure washers are there?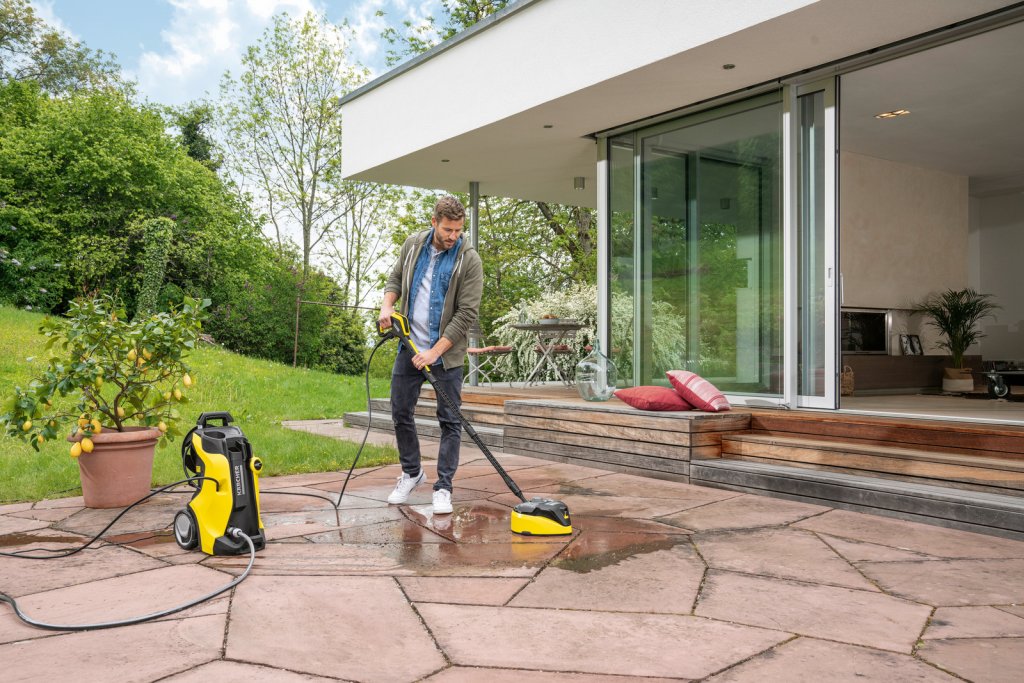 Kärcher pressure washers are basically divided into two types. One uses a power connection as its energy source, while the other group has an integrated rechargeable battery. There are advantages and disadvantages to consider when deciding which one to choose:
Electric pressure washers: the selection is noticeably larger, including the advantageous hot water devices. They are available up to the high performance classes. However, they are a little more expensive and the cable sometimes gets in the way during work.
Cordless pressure washers: Their mobility is very advantageous, as they are equipped with a rechargeable battery. However, the runtime is relatively short at about 14 minutes and a charging time must be taken into account. The performance is somewhat lower. However, the devices are usually somewhat cheaper and therefore well worth considering.
The type of pressure washer you choose depends solely on its intended use. If you only need the device for a short time and have to remain mobile, one with a rechargeable battery is always suitable. For all other purposes and for cleaning heavy dirt, on the other hand, a higher power class is required, which is better provided by a model with a power connection.
What else to look for when buying a Kärcher pressure washer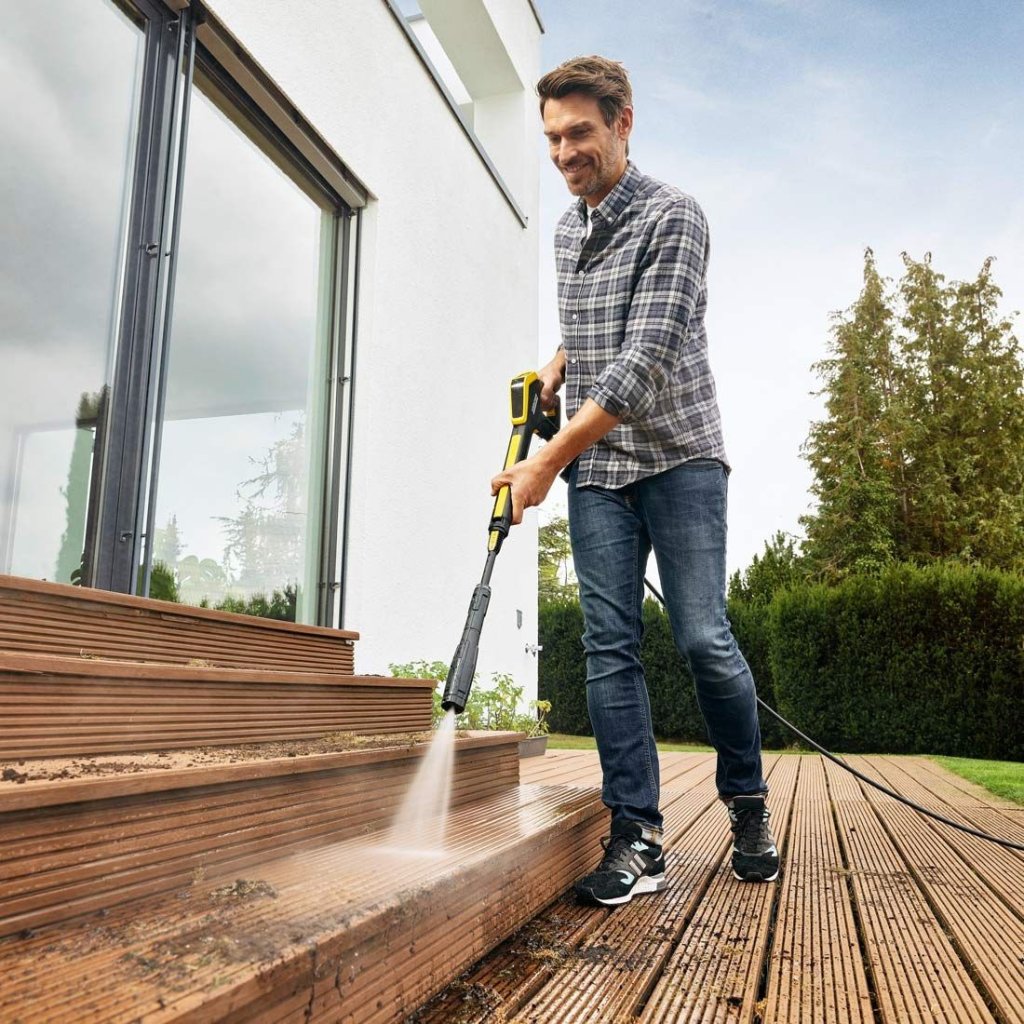 When buying a Kärcher pressure washer, there are other criteria to consider in order to choose the right model. Since the Kärcher range is very diverse, you should definitely pay attention to the following factors:
FAQ