Best Cordless Pressure Washers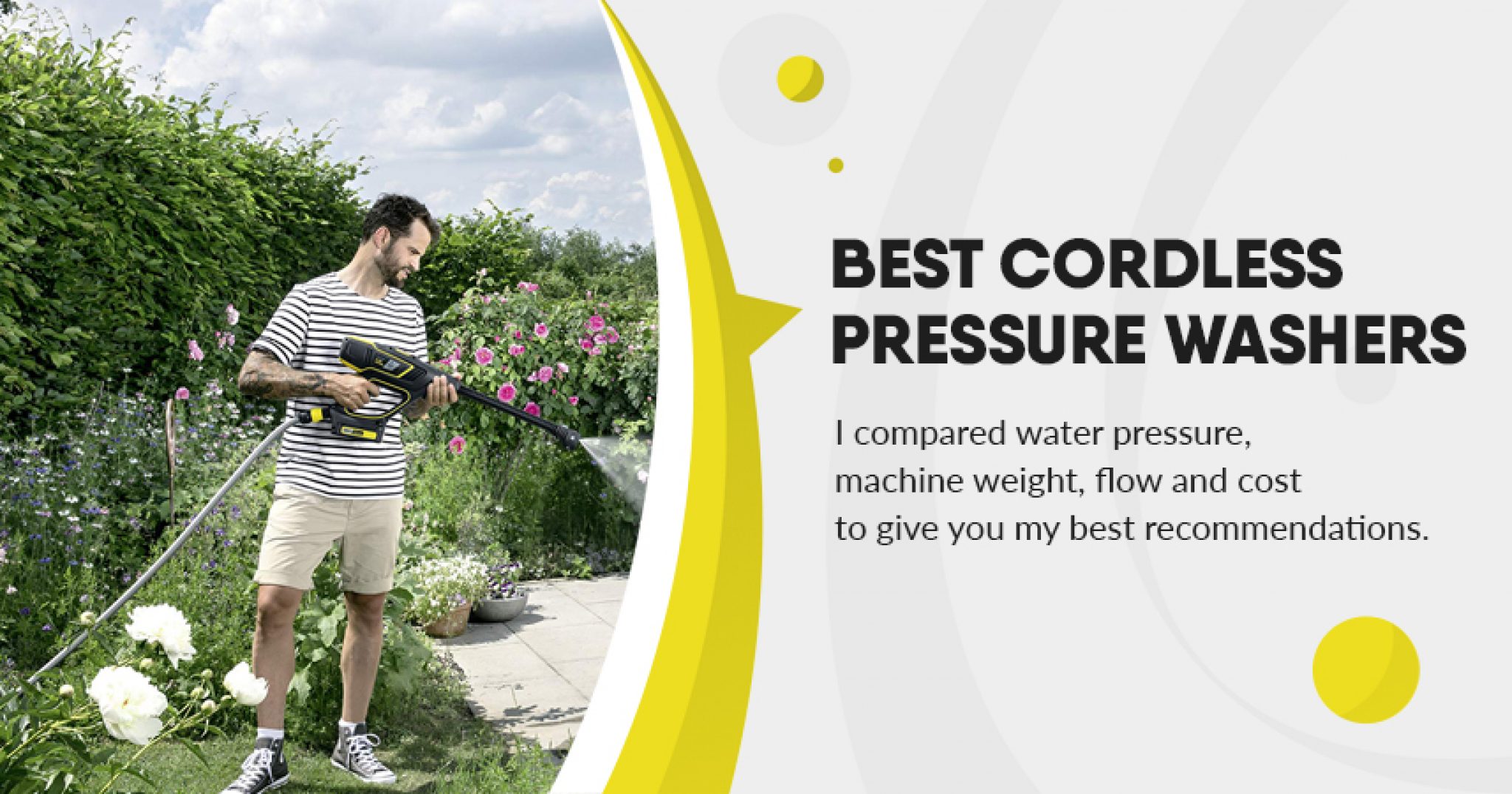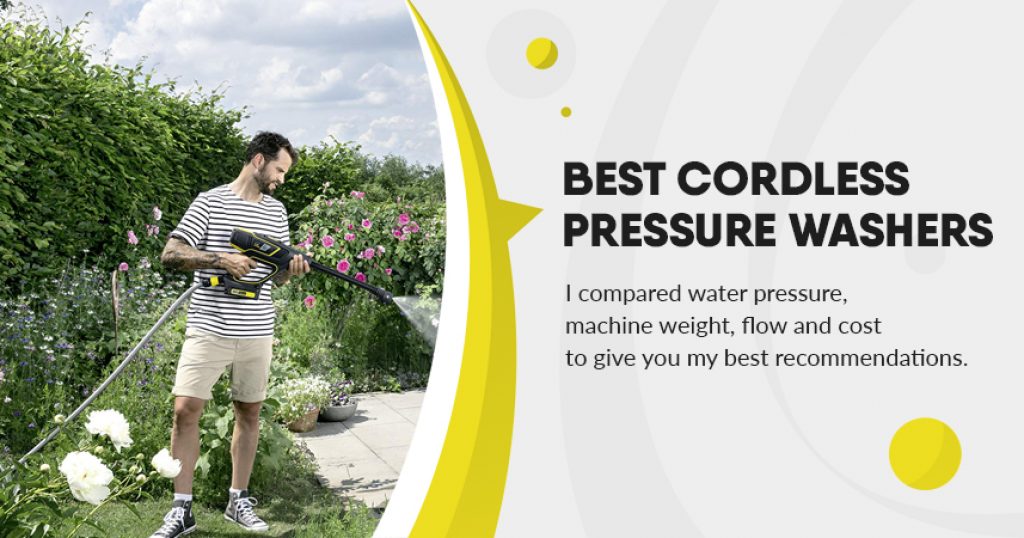 If you are looking for information on how to choose a cordless pressure washer, you should read this article. Specifically, I'll discuss some of the pros and cons of cordless pressure washers, including different models and cleaning options.
Cordless pressure washer is the most effective cleaning tool for your home or office. With improvement in technology and time, cordless pressure washers have been introduced which are now not only portable and efficient but also cost effective. In addition, they are also relatively lightweight and don't require any electrical outlet for operation. Today, you can find various models and brands of pressure washer available in the market.
In this guide, I reviewed the 5 best cordless pressure washers for 2021 in UK. I compared water pressure, machine weight, flow and cost to give you my best recommendations.
Maximum Water Pressure (Bar)
Maximum Flow Rate (L/hour)
Machine Weight (Kg)
WORX WG625E Cordless Hydroshot Portable Pressure Washer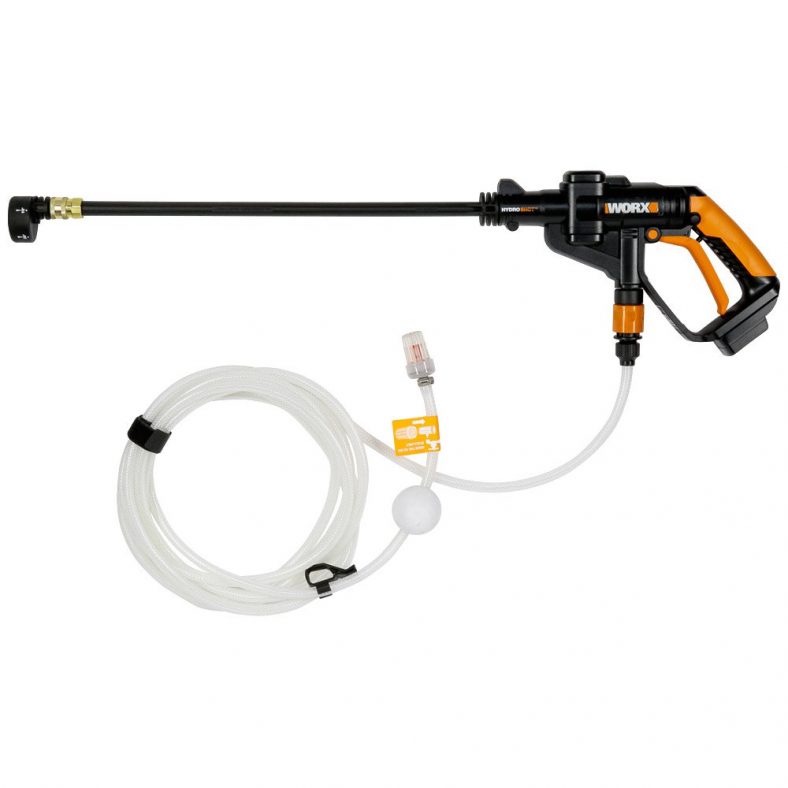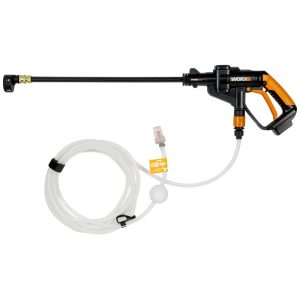 Unlike the Bosch Fontus (below), the Worx Hydroshot doesn't have a water tank, but it does have a 10m water hose that you can dip into any outdoor water source. It also has a filter on the end so you can use dirty water such as from a puddle, stream, lake and, apparently, the ocean. You also have a pop-up bucket to collect the water, you can also connect a normal garden hose and there is also an adaptor for the bottom of the lance to screw on a mineral water bottle. If there is water out there, you can access it with the Hydroshot.
The Hydroshot lance has three pressure settings and the nozzle swivels to offer five different spray functions, from a powerful jet to a wide fan spray for spraying the bike. Worx's claimed water pressure of 2.5 MPa (about 25 bar) is double that of the Bosch unit, but in use the two felt fairly similar.
The Hydroshot is powered by one of Worx's Powershare 20V MAX lithium-ion batteries, meaning it can be shared with other Worx units. The Hydroshot is even available as a "holster only" for around £80 if you have a device with one of the batteries.
It removes the most stubborn dirt, but is not as damaging to paintwork and bearings as a deep cleaner. The Hydroshot has enough power to clean the mud off your bike's tyres and most cavities, and the run time on a single charge is over 20 minutes, which we think is enough to give a bike a really deep clean.
When using the Hydroshot, it feels as solid as the Bosch, but costs half as much, and the ability to tap into multiple water sources is a small advantage when cleaning at the end of a ride.
Ryobi RY18PW22A-0 ONE Cordless Pressure Washer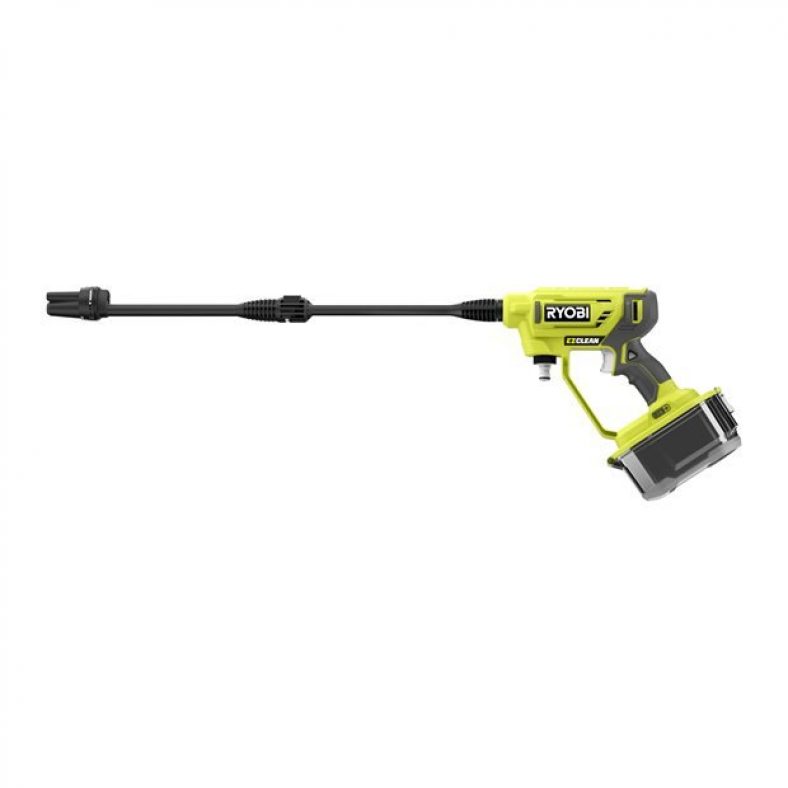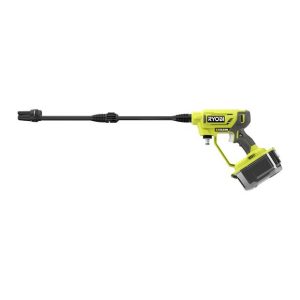 The 18-volt Ryobi RY18PW22A-0 comes without a battery as a "tool only" tool. It is positioned to appeal to DIYers who have adopted Ryobi's 18V ONE+ platform. However, it is a 'naked tool' in more ways than one, as it has almost no useful or even necessary accessories.
It has a maximum pressure of 22 bar and a flow rate of 182 litres per hour.
It has a 3-mode nozzle consisting of "turbo" which is a narrow jet, 15° and a wide "shower" mode.
Although it only has a few modes, this cordless pressure washer really shines when it comes to the all-important "pressure" as it delivers every single bar of its 22 bar rated pressure. This pressure washer can really loosen and wash away dirt.
This cordless pressure washer has excellent build quality and robustness is one of its virtues.
What is not a virtue is the equipment: only a 6 metre suction hose is included.
Unfortunately, Ryobi's latest foray into the world of cordless washers is not very well thought out, as it lags behind the competition in terms of the range of accessories available (forget what's included). No foam bottle, no brush attachment, not even a carrying case. On this criterion, Ryobi's offer is outclassed by all the others.
The other side of the coin is that this Ryobi kit is not expensive and is more affordable than most. Although the value for money is not particularly good simply because of the lack of accessories, it is still a good buy.
Yard Force Aquajet Cordless Pressure Washer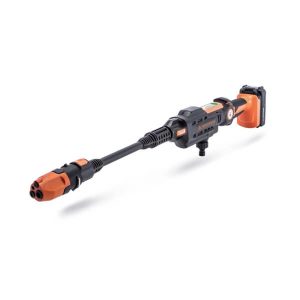 The Yard Force AquaJet 20-volt cordless pressure washer comes with a 2.5 Ah lithium-ion battery. This is the amp-hour specification; in practice, the battery drains in ten minutes on the high pressure setting. The charge level indicator is useful.
The cleaner has a maximum pressure of 22 bar and a flow rate of 270 litres per hour.
The unit has two pressure settings and three spray modes for a total of six combinations. The modes are "Turbo", which is a high-pressure spiral jet; "Jet", which is actually a wide jet; and "Low". With just a little effort, the nozzle can be rotated to change the spray mode.
Despite the numerous setting and spray combinations, the pressure of this washer is not impressive, and it cannot keep up with the competition on this important factor. A small percentage of units are faulty and actually produce less pressure than a good unit, making it a useless purchase.
The AquaJet has a cleverly designed handle that can be set at the usual angle – about 100° – or rotated and extended outwards for a little extra length. There is a large locking knob on one side.
The AquaJet is very well equipped and comes with a 6-metre siphon hose, a brush, a foam bottle, a carrying bag and even a bucket. Regardless of how complete the kit is, we feel it is overpriced and should only be purchased at a special price.
Yard Force offers a 2 year warranty which can be extended to 3 years if you register your purchase.
Bosch Fontus 06008B6070 Cordless Outdoor Pressure Washer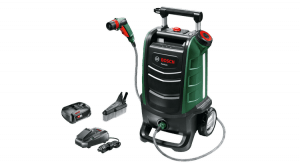 At first glance, you might think that this Bosch pressure washer is much more expensive than our other reviews at less than £230. However, it should be noted that unlike the WORX and Greenworks products, this unit comes complete with battery and charger, so it is really competitively priced. It also won our review of build quality for the best portable pressure washer in another post. You can put it in the back of the car and clean the dog's paws on the lowest setting, which saves a lot of dirt.
The Bosch cordless pressure washer also comes with a smart brush attachment that works wonders on windows. It has a nice design where the water comes out of the centre of the brush head and is directed directly onto the surface to be cleaned.
With 15 bar of pressure, it can't compete with the Greenworks GDC40 in terms of power, but it does a good job for lighter things like washing garden tools and furniture.
The water tank of this Bosch model has a capacity of 15 litres, and fortunately Bosch was sensible enough to equip it with a good set of plastic wheels, which is a great help when refilling the tank.
The wheels are plastic, but they are high quality and sturdy, just like the rest of this durable cordless pressure washer.
The battery charge time is about 100-110 minutes and you can clean for about 50-60 minutes on a full charge, which is pretty good.
There are 3 pressure settings and the spray gun has 4 spray patterns to choose from. The strongest spray is the pencil spray which is used for cleaning dry mud, the 15 degree fan spray to get into tighter areas, the 50 degree wide spray which is best for cleaning larger things like a bike or garage door, and the shower spray which is perfect for bathing pets.
My biggest complaint with this Bosch pressure washer is that the hose is only 15 feet long. This means you have to take the water tank with you even if you don't travel that far. It's not a big deal because, as mentioned, the tank has wheels to move around, but I still found it a bit annoying.
Kärcher 16800190 OC 3 Portable Cleaner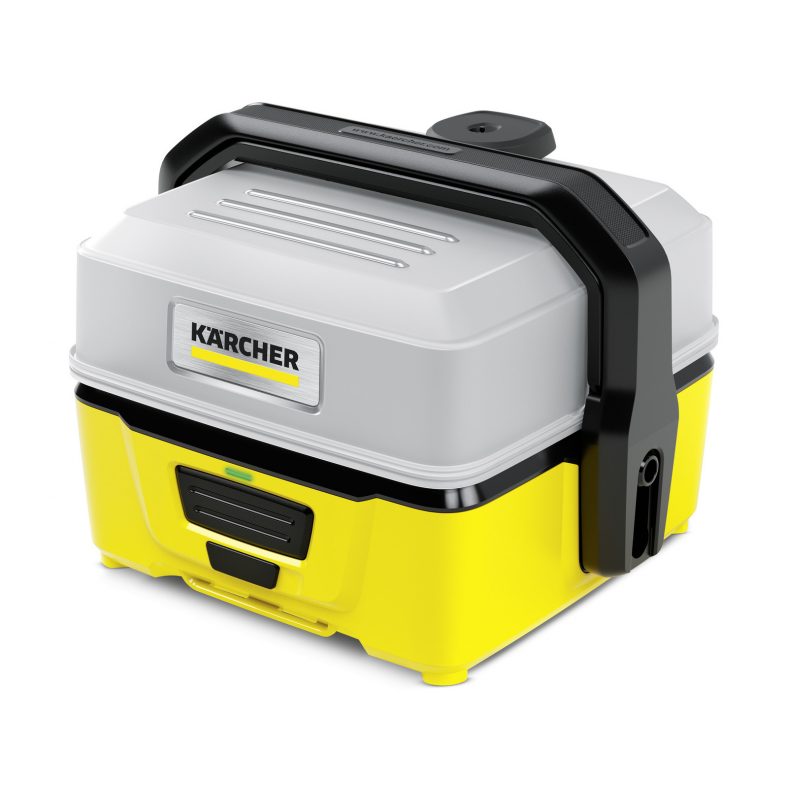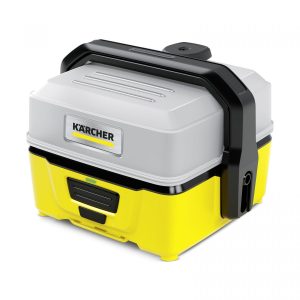 Find Best Price Now
Check Prices of Kärcher OC 3 Portable Cleaner
and find best price for your needs
The unit has been designed to be completely detachable, with no external accessories hanging down that could be damaged during transport. The narrow-gauge retractable hose and spray gun fit neatly into a designated space in the lower half of the unit. The storage compartment is accessed by simply lifting the semi-transparent four-litre water tank through the split carry handle. With a little practice, it takes seconds to unwind or stow the hose. Just be sure to reassemble the handle correctly, as we have had a few times where it has accidentally come loose, resulting in minor damage to the unit.
The OC3 has another neat trick up its sleeve, because unlike the Mobi, which requires access to a power supply, the OC3 relies on an internal lithium-ion battery for truly independent power. This means it can be used virtually anywhere, as it doesn't need to be near an external power source. A three-hour charge gives it enough power to run for an average of 14-15 minutes. That's enough for two or three thorough washes.
Unfortunately, as a bicycle washing machine, the OC3 hits the first hurdle. The four-litre capacity, we discovered, is only enough to clean two-thirds of a really dirty bike before it runs out (the tank can be emptied in less than two minutes). Normally, you have to carry not only extra water, but also brushes and other cleaning accessories, so the space it takes up is actually larger than that of the Mobi V-15. Add to this a non-adjustable spray head; its wide and shallow spray pattern does not have enough power to actually remove dirt unless it is held a few centimetres away from the area to be cleaned.
Karcher makes a brush attachment that would make things much easier, but as the OC3 is marketed as a 'lifestyle' cleaner, anything sport-specific is an expensive optional extra. Given that it's a Karcher, spare parts are regularly available from a variety of vendors. It also comes with a two-year warranty.
The diminutive size of the Karcher OC3 allows it to virtually disappear into any large boot, meaning you'll have a simple cleaner on hand for everyday cleaning. As a dedicated bike cleaner, it falls short of the competition as it lacks capacity and pressure. If you're just trying to rinse off a bit of mud or dust, it works well, but for anything else you'll need more water and a lot of elbow grease to get the job done.
FAQ
I don't have a tap or an outdoor hose, can I use a pressure washer?
Yes. The great thing about portable pressure washers is that they do not need to be connected to a constantly flowing water source. With a portable pressure washer, you fill the unit's water tank or hold the hose in a body of water (bucket, water bottle, lake, etc.). This way, you can easily use a portable pressure washer if you don't have a tap or hose outside.
Can I wash my dog with a pressure washer?
Be careful when bathing your dog with a pressure washer. I would recommend using some of the less powerful pressure washers only on their lightest setting. Test the spray on your hand first, so you can tell if the spray is too strong or not. Portable pressure washers are good because they are not as powerful, and you can put hotter water in the water tank so you don't have to bathe your dog cold. They are also great for washing muddy paws at the end of a walk before you get back in the car.
Can I use my portable pressure washer in winter?
You can use the pressure washer when temperatures are above freezing. Do not leave the unit outside for long periods of time as it may become too cold. If temperatures are expected to drop below freezing after pressure washing, be sure to dry cleaned surfaces thoroughly (especially if you have cleaned your car).
How often should I use a battery-powered pressure washer?
If you have light cleaning tasks, you can use it once every two weeks. But you can also use it once or twice a week if you have large areas with more stubborn dirt to clean.
Which battery-powered pressure washer is best: with or without wheels?
If you don't need to carry it for long distances or it is light, then you can buy one without wheels. But if it is heavier and you need to transport it to distant places, then opt for one with wheels.
What type of cleaner should I use?
First of all, you should check whether your pressure washer has a detergent tank or not. If the answer is yes, get a cleaner suitable for different types of surfaces such as vehicles, floors, concrete, walls, patios, etc.
How much PSI do I need for my car?
It is recommended to use at least 800 PSI for car cleaning. In our product list, most products have enough PSI to clean cars.
Where is the best place to store my pressure washer?
Ideally, the pressure washer should be stored in a dry place. Make sure the place is ventilated so that the pump does not freeze or get damaged in winter.
Conclusion
Although the difference between these two cordless cleaners is essentially whether or not they include a water source, it's not really a big deal because you can buy a 23 litre plastic canister for about ten dollars. Stow it in the boot of your car with the Hydroshot and you'll have more than enough water to clean several bikes.
The Bosch Fontus is a little less portable than the Hydroshot, but it's better quality and has some really nice features, like the compact brush/gun, extendable handle and internal storage. It's also a true stand-alone system, which makes a difference if you don't want to deal with lots of separate containers or search for a water source.
Bosch or Worx cordless cleaners make washing your bike less of a hassle, but the Hydroshot costs less and is a better choice if you're short on space or have trouble finding a reliable water source.
As you can see there are many different types of cordless power washers available to consumers. Which one will work best for your cleaning tasks? That all depends on what it is that you are looking to use your pressure washer for. If you need a portable tool for daily household work, a cordless pressure washer may be just what you need.
Alfred Harper
Alfred Harper is a former consultant and product expert at a company producing cleaning equipment. He was working at this position for more than 10 years and has gained incredible experience and knowledge as he has tested almost all pressure washers brands and models and became an expert in this field. Now, he is writing reviews and how-to articles about different pressure washers and makes a great contribution to the Best Pressure Washers company to help people to choose the best cleaning equipment for home use.