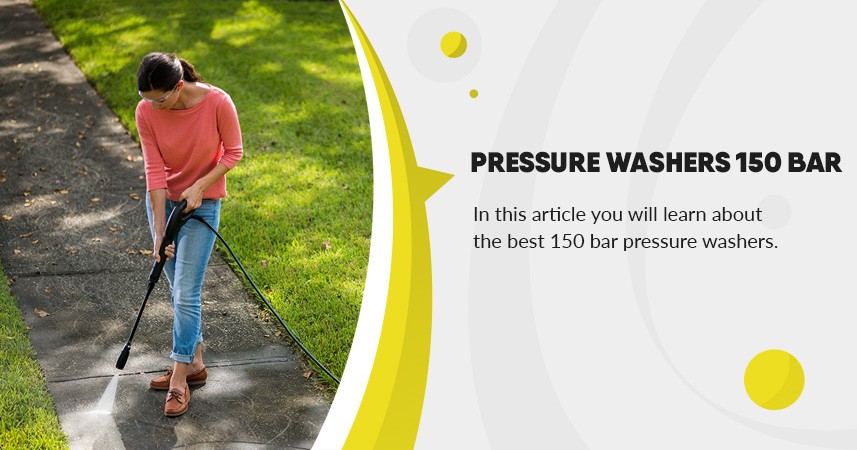 A pressure washer with this capacity is suitable for many tasks, but the litre capacity is decisive for the actual performance. You will learn more about this under the next heading.
Below is a list of the Best Pressure Washers 150 Bar:
Last Amazon price update was: May 13, 2022 12:25 am
For some of the tasks listed below, you will have to adjust the pressure of the unit. Either set the pressure on the unit itself or regulate it via the distance. Otherwise, sensitive surfaces could be damaged by too high a pressure, for example when washing a car. Because car paint should only be cleaned at 85 bar.
Areas of application:
Removing moss from pavements and stone steps
Cleaning bicycles, garden tools, etc.
Cleaning outdoor benches, garden fences, etc.
Cleaning of house facades
Cleaning of wooden, or stone terraces
The tasks listed are our recommendations. You can also do these tasks with pressure washers that have a lower pressure. However, some tasks would take you much longer.

In addition, we cannot list all the tasks, as this would go beyond the scope of this article. The list only serves to give you a quick overview.
10 Best Pressure Washers 150 Bar
Which litre capacity fits so much bar?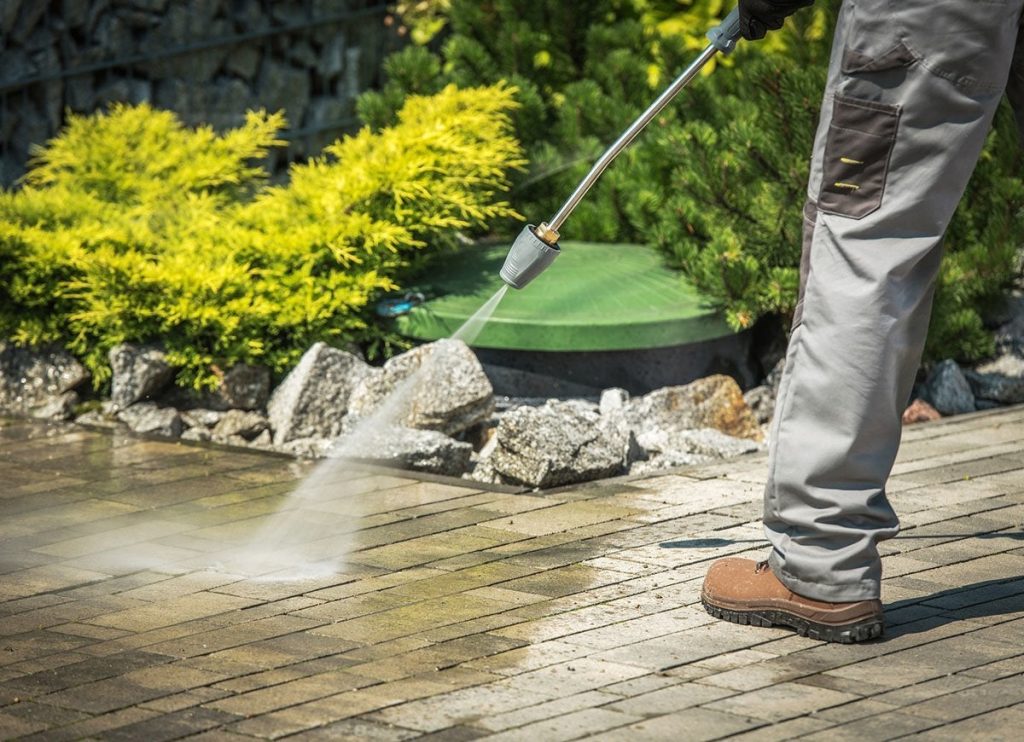 In order to complete all the tasks listed above in a reasonable time, the 150 bar pressure washer should have a flow rate of 450 litres per hour. However, the more the better. This is because the litre output determines how quickly the dirt is washed away. In addition, a higher litre output does not stress the surface as much as a higher pressure.
How much should I spend on such a pressure washer?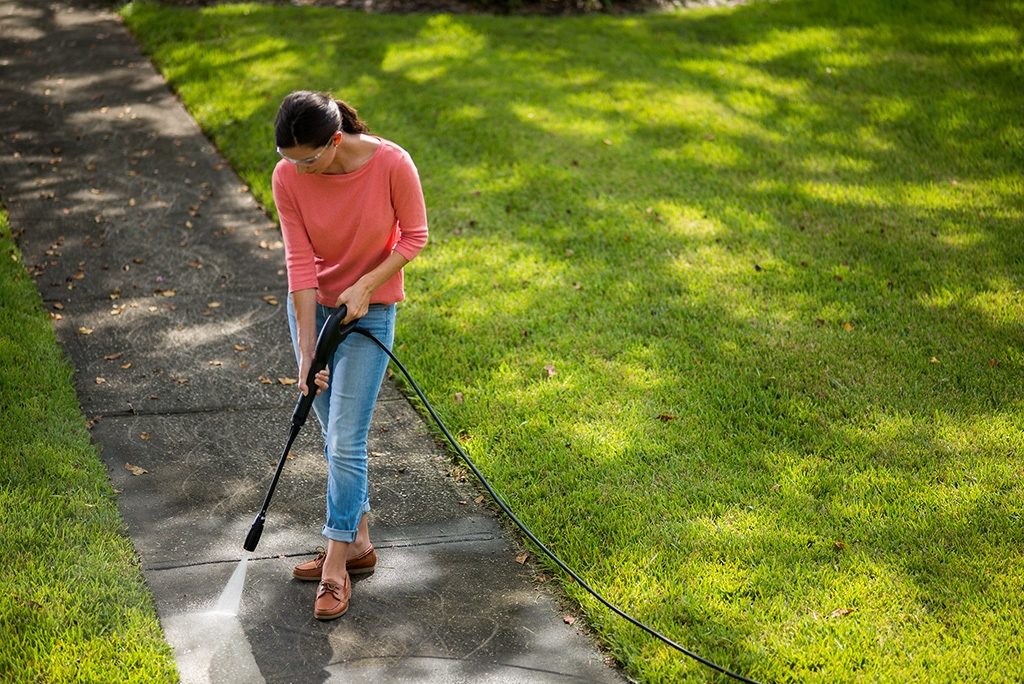 You should plan on spending about £200 for such a device. If accessories are added, however, the price can quickly increase by £100 or more. High-quality surface cleaners or dirt cutters can quickly cost more than £50 each. If the litre capacity is to be more than 500 litres per hour, the price of the high-pressure cleaner quickly increases to £350.
What is a 150 bar pressure washer not suitable for?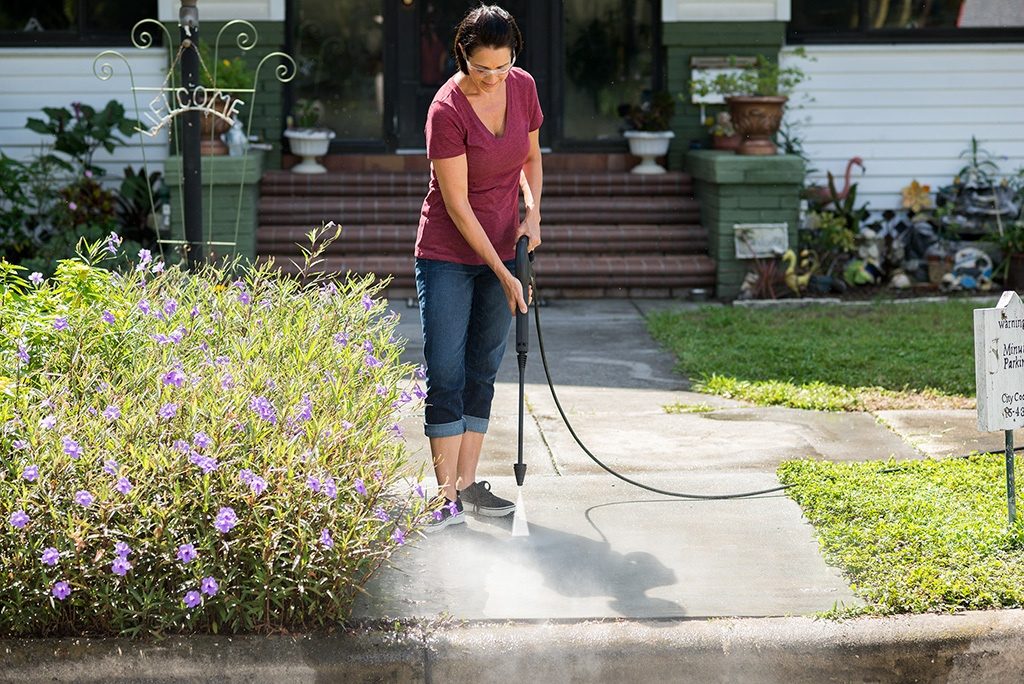 In principle, the pressure of 150 bar is sufficient for almost all applications. However, it is much more important whether it is a cold or hot water pressure washer or how high the litre capacity is.
It may very well be that professional devices used for cleaning equipment or cow barns do not have more than 150 bar. However, professional units have a much higher litre output and often have the hot water function.
Incidentally, the above recommendations on price and areas of application are designed for high pressure cleaners for non-commercial use.
Hot water / cold water pressure washer categories
Most devices with 150 bar are so-called cold water devices. This means that they do not heat the water separately. A hot water unit, on the other hand, has an extra heater built in, which can heat up the outflowing water to up to 100°C.
There are several advantages to so-called hot water appliances:
Oil and grease residues can be removed more easily
A lower pressure can be used
However, cold water devices have a decisive advantage: they are much cheaper to produce and thus to buy. Thus, hot water devices are often only found on farms or in industrial applications.
Pressure Washers 150 Bar in UK
Kärcher K 5 Premium Smart Control Home high pressure washer: Innovative Bluetooth app linking - the solution for a wide range of cleaning tasks - incl. hose reel and Home-Kit
13 new from £384.95
6 used from £319.91
Free shipping
as of May 13, 2022 12:25 am
Features
Note: UK Customer Support number 01295 234 020. NEW - Discover valuable tips from Kärcher experts with our Home & Garden App, such as the right pressure for your cleaning task - individually adapted to your device.
NEW - Cleaning has never been so smart. The right pressure for each cleaning task can be transferred from the app to your device via Bluetooth in no time at all - for the optimal cleaning result.
Extra power with Extra Boost - Even stubborn, stuck dirt is loosened in no time with the Boost mode. Activated via gun or app, it releases an additional 15 bar.
The powerful solution - The K 5 tackles a wide range of cleaning tasks on vehicles, garden tools, balcony and garden furniture, fences and paths, stairs and stone walls relaxed and effortlessly.
Scope of delivery: High-pressure cleaner with 180 Q Smart Control gun, 3-in-1 Multi Jet spray wand, Home-Kit (surface cleaner T 5, stone, and facade cleaner 3-in-1 1 l), 10 m high-pressure hose.
Ryobi RPW150XRB 2200W 150bar Pressure Washer
as of May 13, 2022 12:25 am
Features
High-performance 2200W motor delivers max pressure of 150 bar and max flow of 420L/H
Durable and flexible 8m steel-armed hose resists kinking for an easy cleaning experience
Hose reel for quick and easy storage of hose when not in use
Incorporated 1L detergent tank with on-demand detergent function easily accessible from the wand
Includes 30cm surface cleaner, rotary brush, turbo lance and vario lance
Kärcher K4 Full Control Pressure Washer
12 new from £237.73
1 used from £203.18

as of May 13, 2022 12:25 am
Features
LED display trigger gun
Extendable handle making transportation of your pressure washer simple
The high-pressure hose is stored at the back of the unit, making it easy to set up and store away
3 years manufacturer's warranty
Flow rate (l/h) - max. 420 . Max. water feed temperature (°C) - max. 40
Bosch High Pressure Washer UniversalAquatak 135 (1900 W, pressure: 135 bar, max. flow rate: 410 l/h, in carton packaging)
23 new from £129.99
1 used from £116.24
Free shipping
as of May 13, 2022 12:25 am
Features
The Universal Garden Tools from Bosch – flexible and powerful for a wide range of tasks
The high-pressure washer UniversalAquatak 135 for powerful cleaning with a pressure of 135 bar
Get more cleaning jobs done thanks to the 3-in-1 nozzle, which combines a fan jet, rotary jet and point jet
The pull-out handle and second carrying handle make it easy to use and compact for reduced storage space requirements
Scope of supply: UniversalAquatak 135, Bosch high-pressure spray gun, 7 m hose, 3-in-1 nozzle, high-pressure detergent nozzle with container, transparent water filter, in carton packaging
Wilks-USA RX510 High Power Pressure Washer 135 Bar Portable Electric Jet Washer for Patio Car Driveway & Garden with Snow Foam Bottle
as of May 13, 2022 12:25 am
Features
24 months warranty and free customer service team on hand to assist with any queries that you may occur. Our goal is to resolve any problem that might arise.
Lightweight electric pressure washer, 134 bar (max.), 1800-watt motor delivers the power you need to make short work of cleaning your car, driveway, paving, home, or decking.
The jet washer RX510 includes the following accessories: 6 nozzles / adapters, patio cleaner, rotating brush, spray gun, straight lance, hose lock, Karcher adapter, lance adapter, variable nozzle, turbo nozzle, angled turbo nozzle, handle fixture, detergent bottle and 5m hose, handle fixture, applicator lance, 2 fixing screws, manual. Guaranteed to leave your outdoor surfaces looking immaculate in no time.
Lightweight and easy to move thanks to the wheels. Handle and storage on the device. This Jet washer defines what is possible from such a small and compact jet washer.
The on-board detergent tank simplifies the application of cleaning agents and gives you full control. It is easily filled with any cleaning solution for an extra boost to cleaning performance.
Bosch Home and Garden 06008A7971 EasyAquatak 120 High-Pressure Washer, 1500 W, 1500 V, Green
10 new from £79.99
2 used from £82.46
Free shipping
as of May 13, 2022 12:25 am
Features
Outstanding 120 bar cleaning performance in a compact, easy to use pressure washer
Compact, portable design with a broad base for extra stability and storage for all accessories
Simple push fit connections for quick and easy set up
Includes variable power and rotary nozzles for deeper cleaning
The high-pressure detergent nozzle reduces cleaning time by quickly applying the soap
Kärcher K 3 Power Control high pressure washer: Intelligent app support - for effective cleaning of everyday dirt
21 new from £129.95
4 used from £79.00
Free shipping
as of May 13, 2022 12:25 am
Features
NEW - Discover valuable tips from Kärcher experts with our Home & Garden App, such as the right pressure for your cleaning task - individually adapted to your device.
Cleaning has never been so easy. The pressure is regulated by turning the spray wand - the LED display on the Full Control Power gun makes it easy to check the setting made.
Clean tank solution - The practical detergent tank of the K 3 allows you to use detergents easily and conveniently - for an even more effective cleaning result.
Effective cleaning - the K 3 removes everyday dirt from motorbikes and bicycles, garden tools, fences and paths, balcony, or garden furniture effortlessly and efficiently.
Scope of delivery: High-pressure cleaner with G 120 Q Power Control gun, Vario Power Jet spray wand, dirt blaster,7 m high-pressure hose.
Yard Force 150 Bar 2000W High-Pressure Washer with Accessories 440l/h EW U15
2 new from £127.50
Free shipping
as of May 13, 2022 12:25 am
Features
Powerful 2000W motor pump for maximum performance
150bar maximum pressure with 440L/h maximum water flow high cleaning power
Extendable aluminium handle and wheels for easy transport
Accessories: 0.7L foam sprayer, Turbo nozzle, Vario nozzle, quick connect gun & lance, 6.5m hose, 5m cable
Compact and lightweight design with innovative on-board storage
STANLEY SXPW22PE High Pressure Washer with Patio Cleaner Deluxe and Fixed Brush (2200 W, 150 bar, 440 l/h)
1 used from £85.00
Free shipping
as of May 13, 2022 12:25 am
Features
Pressure (bar) max. 150; Rated power (kW) 2.2; Flow rate (l/h) max. 440; Inlet water temperature (°C) max. 50
The ideal high pressure washer for removing stubborn dirt from outdoor household surfaces, cars, motorbikes, paved areas, steps, swimming-pools, tools and walls
Outfit comprises: trigger gun, high pressure hose (8 m) and lance, rotary jet wash nozzle, adjustable jet wash nozzle, foam lance bottle kit (0.4 l) for mounting on trigger gun, fixed brush and Deluxe Patio Cleaner
Click fast water inlet connection device with inspectable filter that traps dirt and guarantees perfect high pressure washer operation
Dimension : 340 x 360 x 815 mm
Nilfisk C 110 bar 110.7-5 PC X-TRA Compact Pressure Washer for Basic Tasks Outdoor Cleaner with Patio Cleaning Accessory Kit, 1400 W, 240 V, Blue, 440 L/H Water Flow
6 new from £89.95
1 used from £87.36
Free shipping
as of May 13, 2022 12:25 am
Features
Powerful, Lightweight Pressure Washer: This 110 bar max pressure washer handles mildly dirty surfaces up to 25 m2 per hour. Rated power is 1.4 kW
Compact, Manouverable Size: Included trolley wheels make this portable and easy to stow and store in your house or garage
Ideal for Many Home Cleaning Purposes: Use on auto and car, patio, grills, outdoor furniture and a variety of surfaces such as wood decking, tile, stone, metal and more
Multiple Nozzle Choices: Includes two nozzles for any wash job. Choose from the Tornado or Powerspeed (high impact) nozzles. Also features a 5m high-pressure hose for stubborn areas
Premium Quality: Features aluminum pump, lance and spray gun with storage and quick connection, automatic start/stop, cable storage, foam sprayer and pressure regulation in nozzle
Pressure washer manufacturer
Karcher and Nilfisk are the most popular brands when it comes to pressure washers. Both companies have established themselves as experts and a consumer does not make a bad choice with either manufacturer. Nilfisk scores above all with its long warranty period. This is a full 3 years, whereas some no-name Amazon sellers only offer a 1-year guarantee. Another special feature is that you don't even need to register on the manufacturer's website to get the full 3-year warranty.
Kärcher pressure washers, on the other hand, score points for ease of use. Kärcher has developed its own nozzle with jet pipe, which makes it particularly easy to adjust the high-pressure cleaner. The pressure and spray angle can be adjusted in a few simple steps. This eliminates the need to replace a nozzle. Kärcher also offers a two-year guarantee.
What accessories are needed: Surface cleaner / sandblasting / gun / hose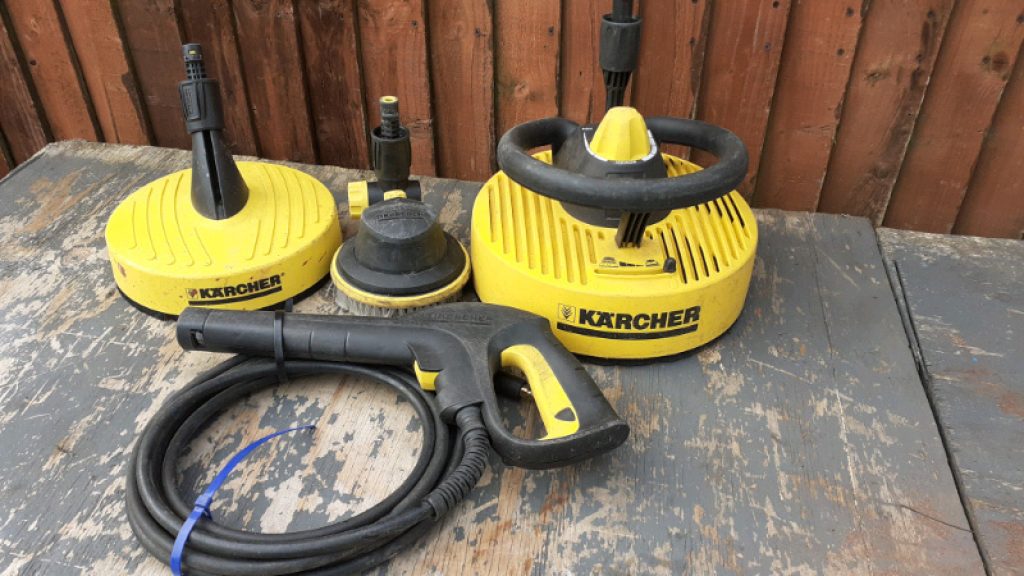 Which accessories you need depends on the area of application. Basically, a high-pressure hose and a nozzle are always required as accessories. However, if you want to clean terraces, you will also need a surface cleaner.
The reason for this recommendation is relatively simple: a surface cleaner is able to clean a large area at the same time. This means you can cover much more area in a shorter period of time.
When choosing accessories, you should also match the performance of the pressure washer. If a sandblasting is used, the water pressure is distributed over a larger area. The same is also true for the surface cleaner, in which case a powerful device should always be used.
Our tip: Right from the start, opt for a pressure washer with lots of accessories. This way you always have a choice and don't have to reorder everything later. This saves you shipping costs and also protects the environment.
FAQ
When should consumers not use a pressure washer?
When it comes to sensitive surfaces, a pressure washer should not be used. However, there are surfaces that can be cleaned with a pressure washer but cannot withstand 150 bar. Car paint, for example, should only be cleaned at 85 bar.
Which pressure washer is the right one?
This depends, of course, on your area of application. Basically, however, a Kärcher with 130 bar and 420 litre capacity is quite sufficient. Of course, you can also choose another pressure washer from a different manufacturer with the same values.
Which is the best pressure washer?
In our opinion, the Karcher company makes some of the best pressure washers.