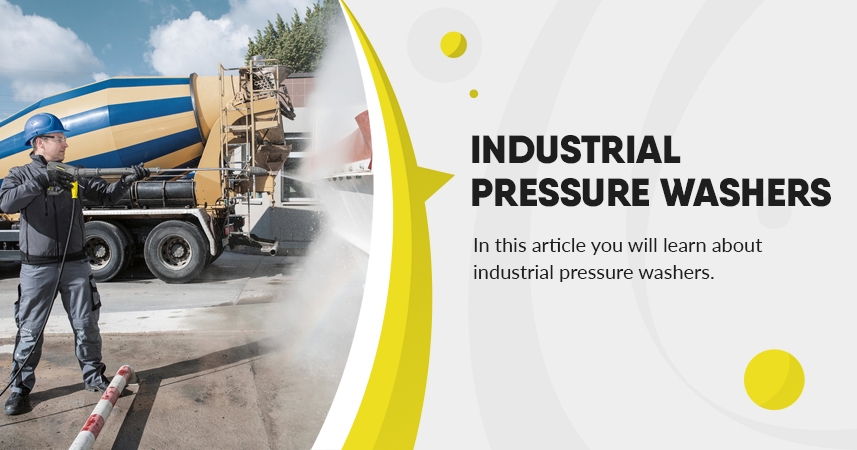 Industrial pressure washers are high-powered pressure washers for use by commercial and manufacturing facilities. This type of pressure washer machine is able to remove dirt in these facilities without any trouble. This leaves every space in the industrial setting clean and neat. Furthermore, the people working in that space can be protected against disease that can be caused by uncleaned dirt in their working environment.
Many companies find industrial pressure washers useful because they allow them to remove even those type of dirt that has been there for a very long time. Proper cleaning and maintenance can be easily done with the help of a high quality industrial power pressure washers.
We have conducted a comprehensive evaluation of the best pressure washers on the market and present the top 5 in this report. Our analysis is based on performance, durability, quality, ease of use and customer satisfaction. Read on to find the ideal pressure washer for your industrial application.
5 Best Industrial Pressure Washers
MAXIMUM WATER PRESSURE (BAR)
MAXIMUM FLOW RATE (L/HOUR)
MACHINE WEIGHT (KG)
HOSE LENGTH (M)
Best Industrial Pressure Washers in UK
Lavor NPX4 1310M Industrial Pressure Washer
as of December 1, 2023 11:48 pm
The Lavor NPX4 1310M Hot Water Pressure Washer Steam Cleaner is a top-of-the-line cleaning machine, offering powerful performance and efficiency. With a maximum pressure of 131 bar and a flow rate of 570 liters per hour, this pressure washer steam cleaner is perfect for cleaning heavy-duty industrial equipment and machinery.
Pros
High-pressure and flow rate for efficient cleaning
Quiet operation
Durable and sturdy design
Large wheels for easy maneuverability
Cons
Heavy at 95 kg
Requires a 3-phase power supply
Kärcher Industrial Pressure Washer
2 new from £3,195.61

as of December 1, 2023 11:48 pm
The Kärcher HDS 6/12 C hot water high pressure cleaner is a compact and durable machine that delivers excellent cleaning performance. It is suitable for cleaning applications in a variety of industries, including agriculture, automotive, construction, and food processing.
Pros
Powerful heating output
Maximum pressure of 120 bar
High flow rate of up to 600 litres per hour
Temperature range of up to 155°C
Intuitive control panel
Quiet operation
Cons
Relatively heavy at 93kg
Not suitable for use with aggressive acids and chemicals
Sealey PW2000HW 135bar Hot/Cold Water Pressure Washer 230V
15 new from £1,100.00

as of December 1, 2023 11:48 pm
The Sealey PW2000HW is a versatile and efficient pressure washer that can tackle both hot and cold water applications with ease. Its powerful motor, high pressure output, and user-friendly design make it an excellent choice for both commercial and residential use.
Pros
Can handle hot and cold water applications
Lightweight and easy to maneuver
Quiet operation
Comes with a built-in hose reel
Cons
Not suitable for heavy-duty commercial use
May not be powerful enough for certain cleaning tasks
Lavor Dakota-R 1509 XP Industrial Pressure Washer
as of December 1, 2023 11:48 pm
The Lavor Dakota-R 1509 XP is a high-performance hot water pressure washer that provides efficient and effective cleaning for both residential and commercial use. With its powerful motor, high pressure, and hot water capability, it can quickly and easily clean a wide range of surfaces.
Pros
Powerful 3.5 kW moto
High pressure and hot water capability for efficient cleaning
Relatively quiet operation
Large flow rate for quick cleaning of large surfaces
Practical design with large detergent tank and easy maneuverability
Cons
Relatively expensive compared to some other models
Kiam KM3600DXR Plus 10hp Industrial Pressure Washer
as of December 1, 2023 11:48 pm
The Kiam KM3600DXR is a powerful and efficient industrial diesel pressure washer that is suitable for heavy-duty cleaning tasks. With a high-powered 10hp engine and impressive cleaning capacity, this machine is perfect for commercial and industrial use. It offers high performance and durability to make even the toughest cleaning jobs easy.
Pros
Powerful 10hp engine
Maximum pressure of 3600 PSI (248 bar)
Flow rate of 15 LPM
Easy to transport and maneuver
Relatively quiet when in operation
Cons
Heavy and bulky
Diesel-powered engine may not be suitable for indoor use
Tips to Remember when Buying Industrial Pressure Washers
Buying industrial pressure washers is an investment for any company. That is why you need to remember these simple tips so that you won't commit any mistakes when investing on a reliable industrial pressure washer.
Determine the needs of your facilities for a pressure washer machine. The size of your space will help in determining the capacity of the machine that you will buy. It is important to buy a machine that can cater the needs of the entire space. Moreover, the pressure machine that you will buy should be able to last for a long time. If possible, it should last longer than its expected life.
Read resources that tell you how to buy pressure washer correctly. Read the product reviews they contain so that you would know which one is the right one for your company.
Compare brands, models, and prices.
FAQ
What is an industrial pressure washer and what is it used for?
An industrial pressure washer is a powerful cleaning machine that sprays water at high pressure onto surfaces to remove dirt, grease and other contaminants. This type of pressure washer is commonly used in industrial applications such as factories, warehouses, construction sites and farms.
What type of drive do industrial pressure washers have?
Industrial pressure washers can be powered by electric, petrol or diesel engines. Electric models are best suited for use indoors or near power sources, while petrol or diesel models are better suited for use outdoors or in areas without power.
What pressure ratings are suitable for an industrial pressure washer?
Industrial pressure washers usually have a pressure of at least 150 bar to ensure effective cleaning. Depending on the type of surface to be cleaned, a higher pressure may be required.
What accessories are needed for an industrial pressure washer?
The most important accessories for an industrial pressure washer include a gun, a lance, a nozzle and a high-pressure hose. Depending on the type of cleaning, special nozzles, brushes or cleaning agents may also be required.
How often should an industrial pressure washer be serviced?
The frequency of maintenance depends on the type of industrial pressure washer. However, it is usually advisable to clean the filter regularly and change the oil and air filter. Regular inspection of the hoses and nozzle is also important to ensure that they are not clogged.
Conclusion
Keep in mind of these tips so that your investment won't be just a waste. Remember that buying industrial pressure washers will require a huge amount of money from you. That is why you should carefully select which one will work best for your industrial facility.