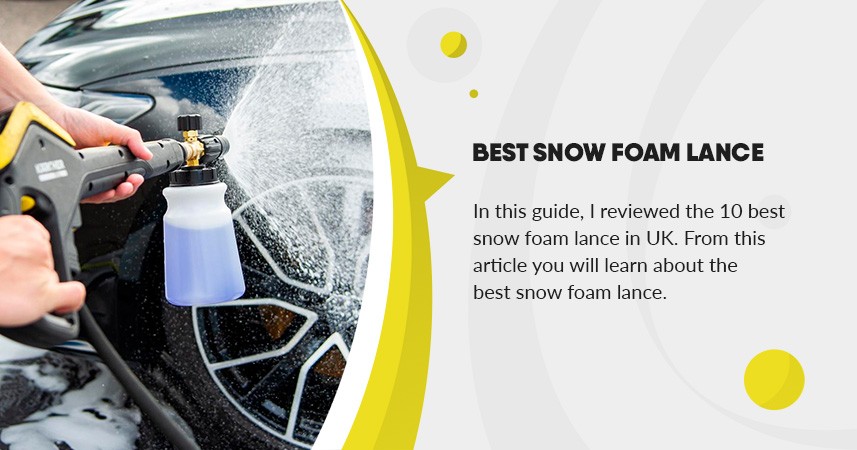 If you have a pressure washer, you can use a foam lance and snow foam to create foam for pre-washing the car. This also works with a foam sprayer, but you have to pump it manually by hand. The foam pattern is also not nearly as good.
Unfortunately, pressure washers do not always have the same connection. Every manufacturer does its own thing here. Fortunately, there is a suitable adapter for the most common manufacturers. In the table above, we have linked the matching offers for the two largest pressure washer manufacturers, Kärcher and Nilfisk.
Whether Claret, MJCC, MATCC, Parts4Care or NoName – they are usually exactly the same model, only with a different imprint. So the only thing that matters in the selection is the matching adapter and the lowest price.
5 Best Snow Foam Lances
Best Snow Foam Lances in UK
Kärcher FJ6 Foam Nozzle
34 new from £17.99
2 used from £15.29
Free shipping
as of December 2, 2023 7:10 pm
Enhance your car washing experience with the Kärcher FJ6 Foam Nozzle. This high-quality foam nozzle is designed to work seamlessly with Kärcher pressure washers, providing a thick layer of foam to effectively loosen dirt and grime from your vehicle's surface. The foam application ensures gentle yet efficient cleaning, preventing any potential damage to your car's paintwork.
The Kärcher FJ6 is incredibly easy to use, featuring a simple attachment process and adjustable foam intensity. You can switch between high and low foam settings to suit your cleaning needs, making it ideal for both light maintenance washes and deep cleaning sessions. Additionally, the nozzle's compact design allows for convenient storage and effortless handling.
Revolutionize your car washing routine with the Kärcher FJ6, and achieve professional-level results from the comfort of your home.
Transform your pressure washer into a powerful foam blaster with the Tool Daily Foam Cannon. This versatile foam lance is specifically designed for car washing and ensures an effective and gentle cleaning process. The adjustable spray nozzle lets you control the foam intensity, so you can easily customize it to your liking.
The Tool Daily Foam Cannon comes with an additional orifice nozzle of 1.1mm, allowing for a consistent foam flow for better coverage. With a 1/4″ quick connector, it fits most pressure washers, making it a highly compatible and user-friendly accessory.
Achieve showroom-quality results with the Tool Daily Foam Cannon, and make car washing an enjoyable and efficient task.
MJJC Snow Foam Lance for Karcher K2 - K7
as of December 2, 2023 7:10 pm
Experience the ultimate foam washing with the MJJC Snow Foam Lance, specially designed for all Karcher K Series Pressure Washers. This professional-grade foam gun is engineered to deliver a thick and consistent layer of foam over your vehicle, effectively breaking down dirt and grime for effortless cleaning.
The MJJC Snow Foam Lance boasts a high-quality construction, ensuring durability and long-lasting performance. The foam cannon is equipped with an adjustable nozzle, allowing you to control the foam's thickness according to your preferences. Whether you're dealing with light dust or stubborn mud, this foam gun has got you covered.
Upgrade your car washing routine with the MJJC Snow Foam Lance, and give your vehicle the care it deserves.
M Mingle Foam Cannon
1 used from £23.55
Free shipping
as of December 2, 2023 7:10 pm
Say goodbye to tedious car washing and hello to efficient cleaning with the M Mingle Foam Cannon. Designed as a replacement part for Bosch (Not AQT), Husky, and various pressure washers, this foam cannon delivers powerful and even foam coverage for a thorough cleaning experience.
The M Mingle Foam Cannon comes with five different nozzle tips, providing you with the flexibility to adapt the foam pattern to suit different cleaning tasks. The 1/4 inch quick connector ensures a hassle-free setup, allowing you to spend more time cleaning and less time on preparation.
Make car washing a breeze with the M Mingle Foam Cannon, and achieve outstanding results without the fuss.
Nilfisk Gerni Compatible Snow Foam Lance
as of December 2, 2023 7:10 pm
Unleash the power of foam cleaning with the Pressure Washer Jet Wash Snow Foam Lance. Designed to be compatible with New Nilfisk Gerni pressure washers, this snow foam lance delivers a luxurious layer of foam that efficiently lifts dirt, grime, and contaminants from your vehicle's surface.
The adjustable foam lance allows you to regulate the foam thickness, catering to various cleaning needs and preferences. By pre-soaking your vehicle in foam, you reduce the risk of scratches and swirl marks during the washing process.
Elevate your car washing game with the Pressure Washer Jet Wash Snow Foam Lance, and enjoy a car that shines like new after every wash.
Snow Foam dosing in the foam lance
Kärcher has its own foam lance for its K series. This is very inexpensive and you can create a great foam pattern with the right Snow Foam dosage.
However, the Snow Foam consumption is about twice as high as with the larger 1 litre car foam guns.
With the Kärcher FJ6 foam nozzle, you have to use 100 ml of Snow Foam per litre of water to produce good foam. With the foam lance recommended by us, on the other hand, it is only about 50 ml.
The price advantage of the FJ6 foam lance is therefore used up after about 10 to 20 washes due to the increased consumption (depending on the Snow Foam price). If you think long-term, you can save by buying the more expensive foam lance.
FAQ
Which agent for the foam lance?
In our article on Snow Foam, we compared the best products that work perfectly in a foam lance.
How does a foam lance work?
Due to the high pressure of the high-pressure cleaner, the cleaning agent is sucked out of the preart container.
Dosage in the foam lance?
Unfortunately, there is no generally valid dosage recommendation. Too many factors such as water hardness, Snow Foam used, foam lance and high-pressure cleaner influence the result. The optimal dosage is usually between 50 and 80 ml of Snow Foam per litre of water.