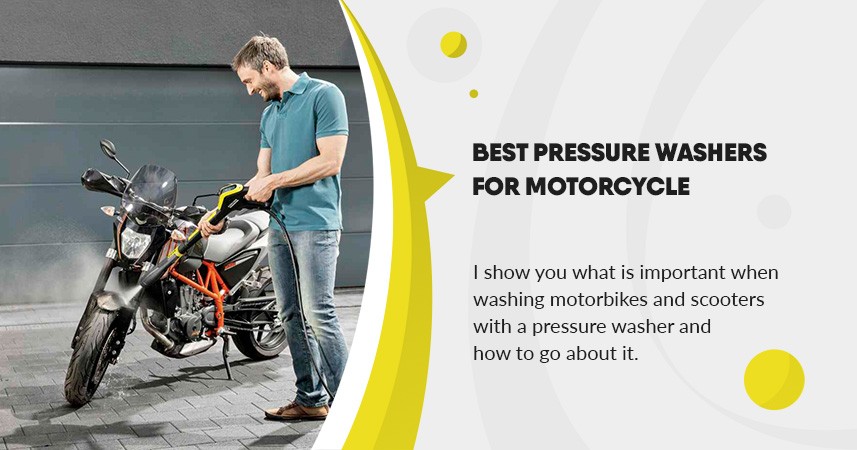 I show you what is important when washing motorbikes and scooters with a pressure washer and how to go about it.
Below is a list of the Best Pressure Washers for Motorcycle in UK
Last Amazon price update was: May 11, 2022 2:44 am
After an exhausting tour on your motorbike, you probably have a smile on your face – and insects on the paintwork of your vehicle. So washing it with a powerful high-pressure cleaner sounds very tempting. But is it a good idea? Yes, if you do it carefully. To ensure that your motorbike shines in new splendour after cleaning and does not suffer any damage, there are a few things to keep in mind:
Keep your distance: The closer you stand with the pressure washer to the motorbike, the higher the pressure. Therefore, always keep the minimum distance recommended in the operating instructions. As a rule, this is 30 centimetres. When cleaning, start at a greater distance from the motorbike or scooter and reduce it if necessary. Also remember to keep a flat angle between the water jet and the motorbike to protect the paintwork.
Hand wash delicate parts: Do not aim the jet of the pressure washer directly at sensitive wheel hubs, lever joints, oil and water coolers, swingarm, steering head bearings or O-ring chains. The pressure can damage these components and force water into fine cracks and bearings, damaging the motorbike or scooter. It is better to clean these sections by hand with a sponge or soft brush after soaking.
Avoid the electrics and engine block: Make sure that electrical components and the engine get as little water as possible.
Be careful with the tyres: This is a matter of your own safety. Be sure to work on the tyres with sufficient distance and little pressure. Do not keep the water jet directed at one spot for too long. Otherwise the tyres could be invisibly damaged and burst at high speeds or over long distances.
Similar regulations apply to motorbike washing as to car cleaning with a pressure washer: Find out about the regulations on car washing in your municipality. Cleaning on the street is usually prohibited, washing on private property is sometimes permitted. The background to this is environmental protection: to prevent water contaminated with oil or chemical cleaning agents from getting into the groundwater or sewage system, cleaning is often only permitted where there is an oil separator in the drain. Engine washing is usually prohibited.
5 Best Pressure Washers for Motorcycle
MAXIMUM WATER PRESSURE (BAR)
Power (W)
MACHINE WEIGHT (KG)
HOSE LENGTH (M)
Pressure Washers for Motorcycle
Kärcher K 2 Compact Pressure Washer
19 new from £71.99
2 used from £66.95
Free shipping
as of May 11, 2022 2:44 am
Features
Ideal for cleaning delicate surfaces such as car or harder surfaces such as stone and brickwork
The lightweight design makes the machine easy and convenient to transport
The integrated suction tube allows detergent to be applied to any surface being cleaned
Trigger gun, hose and lance can all be stored neatly on the machine
2 years Guarantee
Ryobi RPW110B Pressure Washer, 1500 W, Amazon Exclusive
as of May 11, 2022 2:44 am
Features
High-performance 1500W motor delivers a max pressure of 110 BAR and max flow of 360L/H
Extremely compact design with integrated carrying handle
On-board storage for hose, trigger gun, and spray wand
External detergent bottle included
Amazon Exclusive
VYTRONIX PW1500 Powerful Electric Pressure Washer 1500W | Jet Wash | High-Performance Power Cleaner for Car, Home, Patio and Garden Furniture | 105 Bar Water Jet
1 used from £48.99
Free shipping
as of May 11, 2022 2:44 am
Features
GET THE JOB DONE: Whatever your light to medium duty outdoor cleaning task, the PW1500 power washer won't crack under pressure. With its impressive cleaning power and great overall performance, it's perfect for cleaning everything from cars to bins, patios, walls, barbeques, and garden furniture
QUICK CONNECT ACCESSORIES: This pressure washer comes with all the right tools for the job - a 5m hose, lance, trigger handle and a twist & go variable flow nozzle. With its built-in tool storage system, you can attach all the accessories to the machine's body - keeping everything together
POWERFUL CLEANING: Does your garden space need a little sprucing up? With its 1500W motor and 105bar max pressure water jet, this electric pressure washer makes it easy to achieve sparkling results. It will remove even the most stubborn dirt and grime from your outdoor surfaces
COMPACT & LIGHTWEIGHT: At just 6.1kg and less than 50cm high, you can easily take this Vytronix pressure washer wherever you clean. With its compact design, it's also easy to store and takes up little space in your storage cupboard, shed or garage. Product dimensions are 25 x 21 x 47cm
POWERFULLY SIMPLE: We like to keep it simple. How? By creating home appliances that get the job done, brilliantly. No frills, no gimmicks and no features you'll never use. We can't do your housework for you, but we can certainly make it easier
Nilfisk C 110 bar 110.7-5 PC X-TRA Compact Pressure Washer for Basic Tasks Outdoor Cleaner with Patio Cleaning Accessory Kit, 1400 W, 240 V, Blue, 440 L/H Water Flow
6 new from £89.95
1 used from £87.36
Free shipping
as of May 11, 2022 2:44 am
Features
Powerful, Lightweight Pressure Washer: This 110 bar max pressure washer handles mildly dirty surfaces up to 25 m2 per hour. Rated power is 1.4 kW
Compact, Manouverable Size: Included trolley wheels make this portable and easy to stow and store in your house or garage
Ideal for Many Home Cleaning Purposes: Use on auto and car, patio, grills, outdoor furniture and a variety of surfaces such as wood decking, tile, stone, metal and more
Multiple Nozzle Choices: Includes two nozzles for any wash job. Choose from the Tornado or Powerspeed (high impact) nozzles. Also features a 5m high-pressure hose for stubborn areas
Premium Quality: Features aluminum pump, lance and spray gun with storage and quick connection, automatic start/stop, cable storage, foam sprayer and pressure regulation in nozzle
Black+Decker BXPW1400E High Pressure Washer (1400 W, 110 bar, 390 l/h)
as of May 11, 2022 2:44 am
Features
Pressure (bar) max. 110; Rated power (kW) 1.4; Flow rate (t/h) max. 390; Inlet water temperature (°C) max. 50
The ideal pressure washer for the occasional removal of moderate levels of dirt from outdoor surfaces, gates, equipment, garden furniture, cars, motorbikes and bicycles
Complete with 6 accessories stowed on hooks on the back of the unit after use
Click fast water inlet connection device with inspectable filter that traps dirt and guarantees perfect high pressure washer operation
Integral handle in top of unit for easy transportation
Cleaning the motorbike with a pressure washer: Instructions
Rinse off coarse dirt

Rinse coarse dirt off your motorbike or scooter with clear water from the pressure washer if the vehicle is heavily soiled. Do not aim the water jet directly at sensitive parts such as bearings, wheel hubs or radiators.

Soak dirt

Fill vehicle shampoo into the spray kit according to the instructions and attach it to the pressure washer. Then spray the cleaning agent onto the motorbike with the pressure washer to soak dirt such as oil residues or insects with the foam.

Remove dirt with the sponge

Now wash the motorbike or scooter by hand. Take a sponge and remove the soaked dirt. Also clean sensitive components such as water and oil coolers, lever joints, steering head bearings or O-ring chains with a sponge or soft brush. The rims are best cleaned with a washing brush attachment on your high-pressure cleaner.

Rinse off

Rinse detergent and dirt off your motorbike or scooter with clear water from the pressure washer. Again, be careful not to aim the jet at sensitive parts and seals.

Dry off

Dry your motorbike thoroughly. Use either a leather cloth or a soft microfibre cloth. The latter reduces the risk of damaging the paintwork during drying. If available, an air jet from the compressor will help remove water from hard-to-reach areas. By drying your motorbike or scooter thoroughly, you prevent damaging rust from forming.

Care

Preserve metal parts with spray oil. Chrome and aluminium parts can be maintained with polishing cotton wool, and paint can be maintained with hard wax, which is applied with a soft cloth or polishing cotton wool and seals the surface. Unpainted motorbike parts and sections made of plastic are best treated with special polishes.
Now your motorbike is thoroughly cleaned, cared for and ready for the next tour. We wish you a good ride!
Summary: Cleaning your motorbike with a pressure washer
Find out about the legal regulations before cleaning your motorbike on private property. For environmental reasons, this is not allowed everywhere.
Keep to the recommended minimum distance (please read the operating instructions for your pressure washer, it is usually 30 centimetres) to avoid damaging your motorbike or scooter.
Do not treat sensitive bearings or seals directly with the high-pressure cleaner. The engine block and electrical components should also receive as little water as possible.
Always wear your personal protective equipment when working according to the operating instructions.
First rinse off heavy soiling with clear water. You can soak light dirt directly with cleaning agent from the high-pressure cleaner.
Wash sensitive parts with a soft brush or sponge and then rinse off the cleaning agent with clear water from the high-pressure cleaner.
Thoroughly leather your motorbike or scooter and preserve metal parts with oil. Care for aluminium parts, paint and other surfaces with appropriate care products.
FAQ
Can I wash my motorbike with a pressure washer?
Yes, you can wash your motorbike with a pressure washer. Be careful not to treat sensitive parts directly with the water jet and switch to hand washing. Keep a sufficient distance and dry the motorbike thoroughly at the end. Observe the legal regulations for washing motor vehicles.
How can motorbikes be cleaned with a pressure washer?
You can easily clean motorbikes with a high-pressure cleaner. Make sure you leave enough distance so as not to damage the paintwork and tyres. Wash sensitive parts by hand and dry the motorbike well at the end. Finally, care for metal parts with oil. Also observe the legal regulations for cleaning motor vehicles.
Where can I wash my motorbike?
You can usually wash your motorbike in places with an oil separator in the drain. It is therefore often prohibited on the street. Whether you are allowed to wash your motorbike on private property is determined by your municipality in the regulations on motor vehicle washing. Find out in advance before you wash your motorbike.