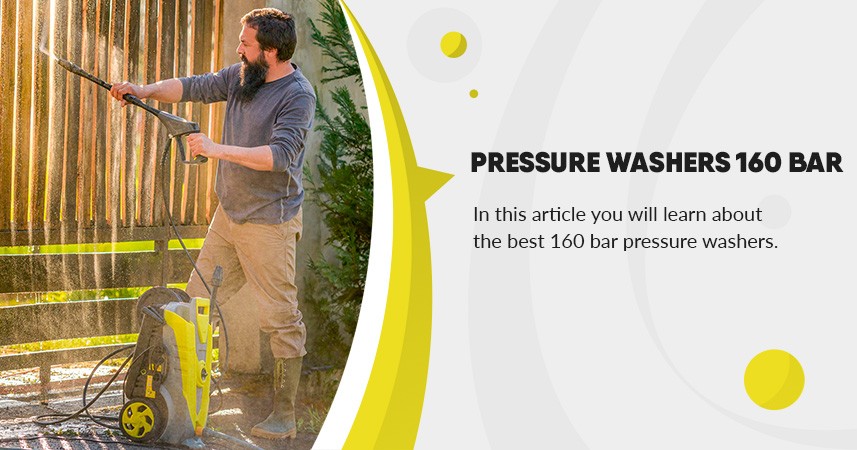 If a pressure washer has more than 160 bar, it is suitable for all tasks. With pressure washers with more pressure, you have to be careful not to damage the surfaces to be cleaned.
Therefore, the following also applies to pressure washers with 160 bar: Regulate the pressure on the device or regulate it with the distance. The advantage of a 160 bar pressure washer is that you can clean large areas quickly (assuming a sufficient litre capacity, more information under the next heading).
You can namely place yourself far away from the object, covering a larger area with the water jet and still cleaning it sufficiently due to the high pressure.
List of applications at 160 bar:
Tiles
Stone steps
House facades
Outdoor benches
160 Bar Pressure Washers
The areas of application listed here are intended to provide a quick overview of everything you can clean with a pressure washer with 160 bar. Of course there are other areas of application, which we could not list here.
In addition, some of the things we have listed here are sensitive, such as car paint, which should only be cleaned with 85 bar.
Therefore you have to pay attention to the distance or best choose a pressure washer, which can be regulated with the pressure. If necessary, you can also opt for a more powerful Kärcher pressure washer, as these are pressure-regulable in most cases.
FAQ
What litre capacity should a 160 bar pressure washer ideally have?
Ideally, it should be the maximum the garden hose can deliver. The higher the litre capacity, the better the result. This is because the litre output is actually the more decisive characteristic for the cleaning performance. Litre outputs of 500 litres per hour at 160 bar are recommended. The litre capacity should not be less than 450 litres.
How much should I spend on a good unit?
Finding a good and cheap pressure washer with 160 bar is actually a difficult matter. This is because 160 bar is directly between 150 bar standard pressure washers and 180 bar premium units.
You often have to pay more than £300 for a really good 160 bar pressure washer, whereas you are already in the upper segment with 150 bar pressure washers at £250.
If you also need a lot of accessories, such as a surface cleaner or a hose reel, you often have to add another £100. Individual accessories can quickly cost more than £50.