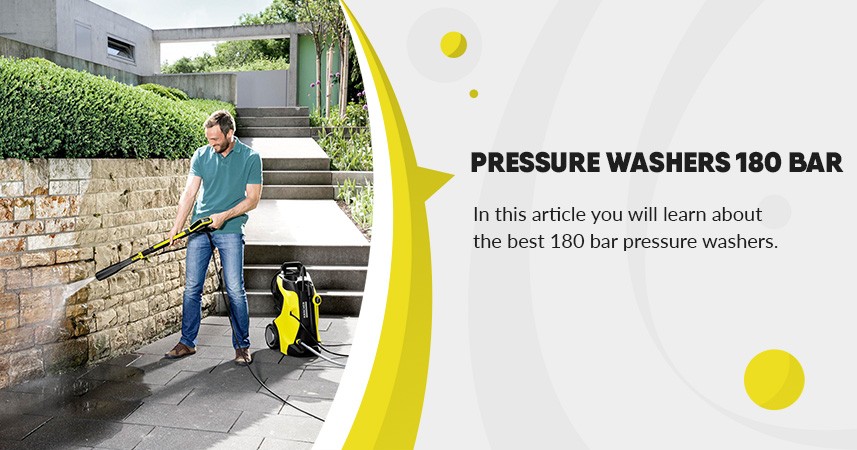 The more pressure a pressure washer has, the faster you can clean large areas. This is because the water jet can be applied to a much larger area and still achieve a good cleaning result. Whereas a water jet from a pressure washer with lower pressure has to be used in a more focussed way, which means that the cleaning of the surface takes a lot longer.
In very few cases is a pressure of 180 bar required to remove stubborn dirt. In principle, 110 bar is sufficient for any kind of soiling, but the nozzle must then be held very close to the surface, which takes a long time to clean the entire surface in the case of large areas of soiling.
Below is a list of the Best Pressure Washers 180 Bar:
Last Amazon price update was: May 19, 2022 5:53 am
However, all the pressure (bar) is of no use if the litre capacity is not right. This often has a much greater influence than the pressure itself. Our recommendation is that a pressure washer with this high bar capacity should have a capacity of at least 500 litres per hour.
The list below should give you a quick overview of what you can clean with a 180 bar high pressure cleaner. Of course, you can also use the pressure washer for many other applications, which have not been listed here for reasons of space.
Suitable tasks:
Moss-infested pavement slabs, stone steps, roofs, paving, etc.
Darkened paving with algae
Dirty house facades and stone walls
Wooden terraces, wooden benches and chairs
Cars, caravans, off-road vehicles, tractors, motorbikes
Garden tools such as shovels, rakes, etc.
Interior walls of pools or even cowsheds
Important: For many of the tasks listed above, the pressure must be reduced. After all, a wooden bench would not easily withstand the pressure of 180 bar. However, the pressure can also be regulated with the distance, but this is not an easy task at 180 bar. Therefore, when buying a pressure washer, make sure that the pressure can be sensibly regulated.
5 Best Pressure Washers 180 Bar
FAQ
180 bar and what litre capacity?
We have already addressed this issue above, the minimum litre output should be 500 litres per hour. We recommend even more, namely 600 litres per hour as an appropriate output. When it comes to output, the more the better.
How much should I budget for a pressure washer with 180 bar?
If you are interested in such a pressure washer, you will certainly need it for very large areas or a very special field of application. Therefore, it does not make sense to give a general price recommendation. If you want to use the high pressure cleaner for commercial purposes, suitable devices often cost more than £1000 without many accessories.

This is because such pressure washer for commercial purposes are built much more robustly than normal pressure washers. You can get a "normal pressure washer" with 180 bar for 500£ or less. Another factor is whether you need a hot water function or special accessories. Such devices and or accessories can then quickly cost several thousand euros.
What is a 180 bar pressure washer not suitable for?
If you can regulate the pressure washer steplessly or with sensibly selected pressure levels, this pressure washer is suitable for virtually all tasks. The right litre capacity is a prerequisite, of course.

However, if this regulation is not available or has been poorly implemented, as is the case with some devices that only offer high or low pressure, you should avoid cleaning your car, bicycle or wooden terrace with this pressure. This is because the high pressure can quickly damage the paint or degrease the bearings of appliances.
Pressure Washers 180 Bar
Kärcher K 7 Premium Smart Control Home high-pressure washer: innovative Bluetooth app linking - our most powerful solution for every cleaning task - incl. hose reel and home kit
8 new from £441.79
Free shipping
as of May 19, 2022 5:53 am
Features
NEW - Discover valuable tips from Kärcher experts with our Home & Garden App, such as the right pressure for your cleaning task - individually adapted to your device.
NEW - Cleaning has never been so smart. The right pressure for each cleaning task can be transferred from the app to your device via Bluetooth in no time at all - for the optimal cleaning result.
Extra power with Extra Boost - Even stubborn, stuck dirt is loosened in no time with the Boost mode. Activated via gun or app, it releases an additional 15 bar.
Our most powerful solution - vehicles, garden tools, balcony and garden furniture, fences and paths, stairs and stone walls, pond liners, pool and house facades - the K 7 is ready for any challenge.
Scope of delivery: high-pressure cleaner with 180 Q Smart Control gun, 3-in-1 Multi Jet spray wand, Home Kit (surface cleaner T 7 Plus, stone, and facade cleaner 3-in-1 1 l), 10 m high-pressure hose (3 years Guarantee)
Karcher K7 Compact Pressure Washer 180 Bar New 2019 Model 240v
4 new from £388.00

as of May 19, 2022 5:53 am
Nilfisk P 180 bar Pressure Washer with Induction Motor – Electric Power Washer for Household, Outdoor, Car Washing and Garden Tasks (Blue)
12 new from £459.99

as of May 19, 2022 5:53 am
Features
Quality Nilfisk Pressure Washer: The Nilfisk P180 pressure washer with jet wash offers a high performance and is designed to resist a heavy use. Use on a variety of surfaces such as wood, tile, stone, metal, and more
Powerful Pressure Washer: 180 bar max pressure with 610 Litre/hour max water flow. This portable pressure washer is durable with a 2900 W long lasting induction motor and aluminum cylinder heads. The 10 m steel-arm high pressure hose makes it easy
Versatile Use: Large area cleaning is ideal for garden, patio, decking, paving, pools, equestrian areas, garage, parking areas, brick, siding, fences and more
On-Board Storage: Built in detergent system offers ease of use for pressure washer detergent and cleaners. Convenient accessory storage in the machine and reel system for hose means it's easy to move around and access your cleaning path
Premium Quality: Features aluminum pump, lance and spray gun with storage and quick connection, automatic start/stop, cable storage, foam sprayer and pressure regulation in nozzle
Oypla 2400W 180Bar High Pressure Jet Washer Cleaner and Accessories
2 new from £129.99

as of May 19, 2022 5:53 am
Features
Official Oypla Branded Product - Brand New Free UK Delivery
Power: 2400W - Working Pressure: 120Bar - Maximum Pressure: 180Bar
Flow Rate: 5.5L/min - Maximum Flow Rate: 8L/min
Hose Length: 5m - Cable Length: 5m
Includes Adjustable Nozzle & Detergent Applicator Attachment
Karcher HD 7/12-4 M Plus Professional Pressure Washer 180 Bar 240v
as of May 19, 2022 5:53 am
Special features with so much pressure / bar
Safety note
If you decide to use a 180 bar pressure washer, you should be aware of its destructive power. Never leave the pressure washer unattended and do not use it when children are around. This is because the following injuries can occur:
Direct skin contact can cause bruises etc.
If the water jet hits the eye, blindness may result.
Bruises can occur even when using protective clothing
Most of the time you do not need the max. pressure level
Not every surface can withstand such a high pressure. That's why you should take a look at our article: how much bar beforehand. There you can see for which task which pressure is best suited. When buying, make sure that the pressure washer can be regulated.
The max. pressure is not the same as the working pressure
The higher the maximum pressure, the higher the deviations from the working pressure. In practice, the working pressure is the real pressure. However, deviations of up to 20% are possible. There has been some feedback that the pressure is not as high as expected. However, this often only happens with very cheap devices.
Does it always have to be a Kärcher right away?
If you are looking for a cold water pressure washer, Kärcher models are often the first choice. You can buy them online for as little as 500 pounds incl. VAT, in combination with free delivery. This means you can get started straight away after waiting 2-3 days for delivery. Even with the basic models, everything is included, so a free jet pipe with nozzle is always included, so you can get started straight away.
However, there are many more models online that get a similar star rating as Kärcher pressure washers. Nilfisk and Wilks pressure washers are worth mentioning, but where Kärcher remains unbeaten is in the ease of use. In addition, Karcher devices do not weigh much (max. 20 kg), so they are easy to handle.