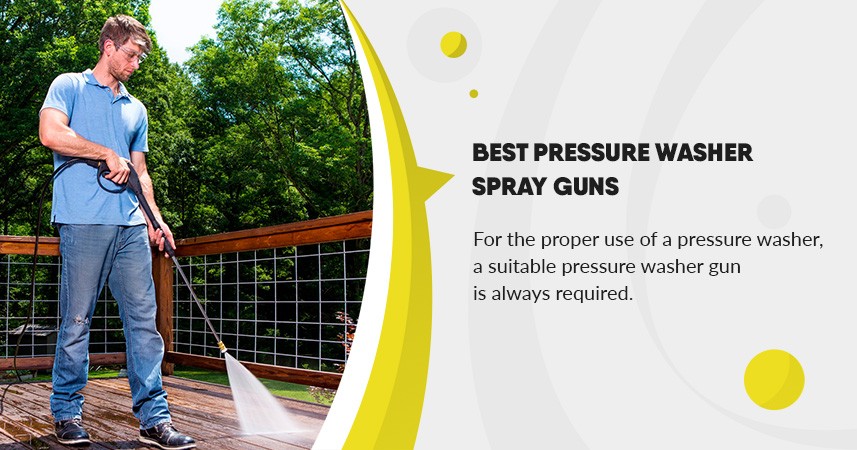 For the proper use of a pressure washer, a suitable pressure washer gun is always required.
In principle, any gun can be used with any pressure washer. However, if the gun is from a different manufacturer than the pressure washer, an adapter or similar is often required. That is why the coupling is particularly important when choosing a gun.
Many guns have an M22x1.5 thread and can therefore be coupled with most cleaners. Kärcher devices, however, have their own system.
You should also pay attention to the quality of the gun's workmanship. In addition, a screw-on gun can be easily cleaned or repaired by the user, while firmly bonded models can only be repaired by the manufacturer.
You can use either original pressure washer guns or universal guns.
5 Best Pressure Washer Spray Guns
Best Pressure Washer Spray Guns
Kärcher Full Control Plus Gun - K5 & K7
3 new from £88.04

as of December 2, 2023 12:59 am
Upgrade your pressure washer experience with the Kärcher Full Control Plus Gun, designed specifically for Kärcher K5 and K7 pressure washers. This advanced gun offers precise control over water pressure, allowing you to adjust the intensity to suit different surfaces and cleaning tasks.
The Full Control Plus Gun features an innovative LCD display that provides real-time feedback on the pressure level and detergent usage, ensuring optimal results every time you clean. With easy-to-use buttons, you can switch between different pressure settings and detergent modes, making it effortless to tackle various cleaning challenges.
Constructed with premium materials, the Kärcher Full Control Plus Gun guarantees durability and reliability, ensuring a long-lasting companion for your pressure washer. Upgrade your cleaning arsenal with this powerful accessory and enjoy the satisfaction of a spotless and well-maintained environment.
M MINGLE Replacement Pressure Washer Gun
2 new from £43.85
Free shipping
as of December 2, 2023 12:59 am
This versatile gun comes with an extension wand, providing a total length of 40 inches for extended reach and added convenience during cleaning.
Designed to fit M22 15mm or M22 14mm fittings, this replacement gun is compatible with a wide range of pressure washers, delivering up to 4000 PSI of power. With five nozzle tips included, you can effortlessly adjust the spray pattern for various cleaning tasks, from light rinsing to tough dirt removal.
Built with durability in mind, the M MINGLE Replacement Pressure Washer Gun ensures reliable performance even under demanding conditions. Upgrade your pressure washer setup with this premium accessory and take your cleaning efficiency to new heights.
Tool Daily Deluxe Pressure Washer Gun
as of December 2, 2023 12:59 am
This high-quality gun is equipped with a replacement wand extension, extending the reach up to 40 inches for efficient cleaning of hard-to-reach areas.
Designed with a standard M22 fitting, the Tool Daily Deluxe Gun is compatible with a variety of pressure washers, delivering an impressive 5000 PSI of power. The package includes five nozzle tips, allowing you to customize the spray pattern to suit your cleaning needs, whether you're dealing with delicate surfaces or stubborn grime.
With its robust construction, the Tool Daily Deluxe Pressure Washer Gun ensures durability and reliability for long-term use. Upgrade your pressure washer with this premium gun, and make your cleaning tasks faster, easier, and more effective.
Kärcher replacement gun G 160
11 new from £23.83
18 used from £12.59

as of December 2, 2023 12:59 am
Keep your Kärcher high-pressure cleaner performing at its best with the Kärcher Replacement Gun G 160. Designed to fit Kärcher machines of classes K2 to K7, this replacement gun ensures compatibility and seamless integration with your existing equipment.
Crafted with the same quality and precision as Kärcher's original accessories, the G 160 Replacement Gun guarantees a secure and leak-free connection. Its ergonomic design ensures comfortable handling, even during extended cleaning sessions, making it a reliable companion for all your cleaning tasks.
Maintain the effectiveness and efficiency of your Kärcher high-pressure cleaner with the G 160 Replacement Gun, and enjoy the confidence of a top-performing cleaning tool.
Nilfisk 128500071 High Pressure Gun
7 new from £38.37
1 used from £31.12
Free shipping
as of December 2, 2023 12:59 am
Designed to deliver optimal cleaning power, this high-pressure gun is a perfect fit for your Nilfisk pressure washer, ensuring a seamless and hassle-free replacement.
Built to withstand the rigors of heavy-duty cleaning, the Nilfisk High-Pressure Gun boasts a durable construction that guarantees long-lasting performance. With its reliable functionality, you can trust this gun to tackle various cleaning tasks with ease, from residential to commercial applications.
Enhance your pressure washing experience with the Nilfisk 128500071 High-Pressure Gun and take pride in a cleaner and more pristine environment.
Which pressure washer gun fits my high pressure cleaner?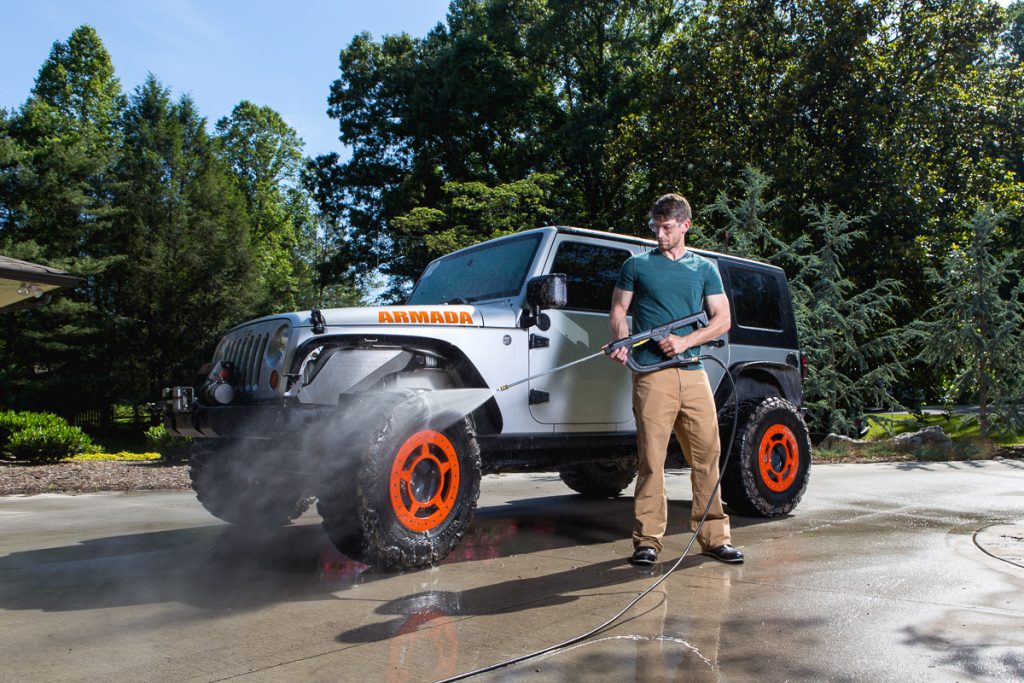 In principle, any pressure washer gun can be combined with any high-pressure cleaner. However, attention must be paid to the connections of the hose and the gun.
This is because Kärcher, Bosch and some other manufacturers use a so-called quick coupling system for their guns and hoses.
These quick coupling systems are only compatible with the manufacturer's own products. The standardised connection would be M22x1.5 or M14x1.5.
These can additionally be converted to any quick coupling system with the help of adapters. There is one exception, however, because some Kärcher models have a so-called Smart Feature.
This allows the pressure washer to be controlled at the high-pressure gun. However, these guns are only compatible with the matching Kärcher pressure washer. The guns connect to the pressure washer via Bluetooth to activate the Smart function.
Furthermore, pressure washer guns are approved for different pressures. If in doubt, choose a gun whose approved pressure is slightly higher than the maximum pressure of the cleaning device.
Summary
The threads on the gun and the hig
M22 x1.5 or M14x1.5 are standardised threads.
Quick Connect connections from Kärcher are only compatible with each other.
The same applies to the Quick Connect system from Bosch.
What distinguishes the best pressure washer guns?
A good pressure washer gun can be identified by several features. The first quality criterion can already be checked when examining the threads: the manufacturing material of the connections.
Robust connections made of brass or similarly durable materials promise a long service life for the pressure washer gun. In addition, the seals of a high-quality product can be replaced, as these are among the most vulnerable parts of the device.
Another advantage of a good pressure washer gun is that it can be completely dismantled for repair and cleaning purposes, because this is the only way to repair a defect yourself instead of having to send the device to the manufacturer immediately. An additional safety lock on the device also protects against unintentional switching on of the pressure washer gun.
Summary
Seals are replaceable
Connections made of high-quality material: brass, etc.
The gun can be completely disassembled with a screwdriver.
Pressure washer gun leaking? What you can do!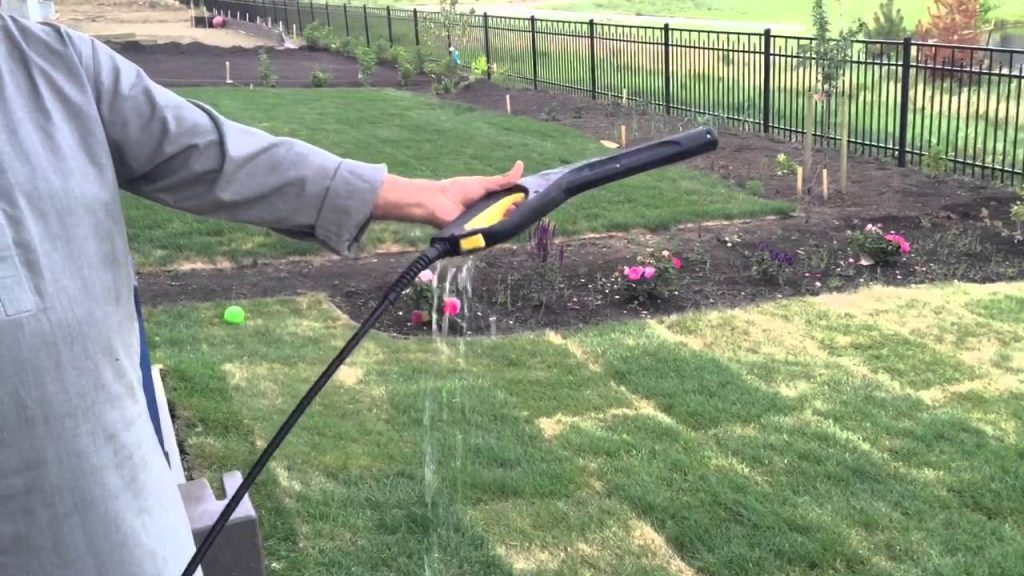 A leaking pressure washer gun is annoying, because it often does not achieve the desired cleaning results and you get wet yourself from splashing water.
To repair a leaking unit, all seals should first be replaced. In most cases, this should ensure that the gun functions properly again.
However, if cracks are found on the gun housing, the housing must be replaced or a completely new pressure washer gun must be purchased. Caution is advised here: if there are cracks in the housing, there is a risk that the gun will burst at high pressure!
The special feature of the Kärcher pressure washer guns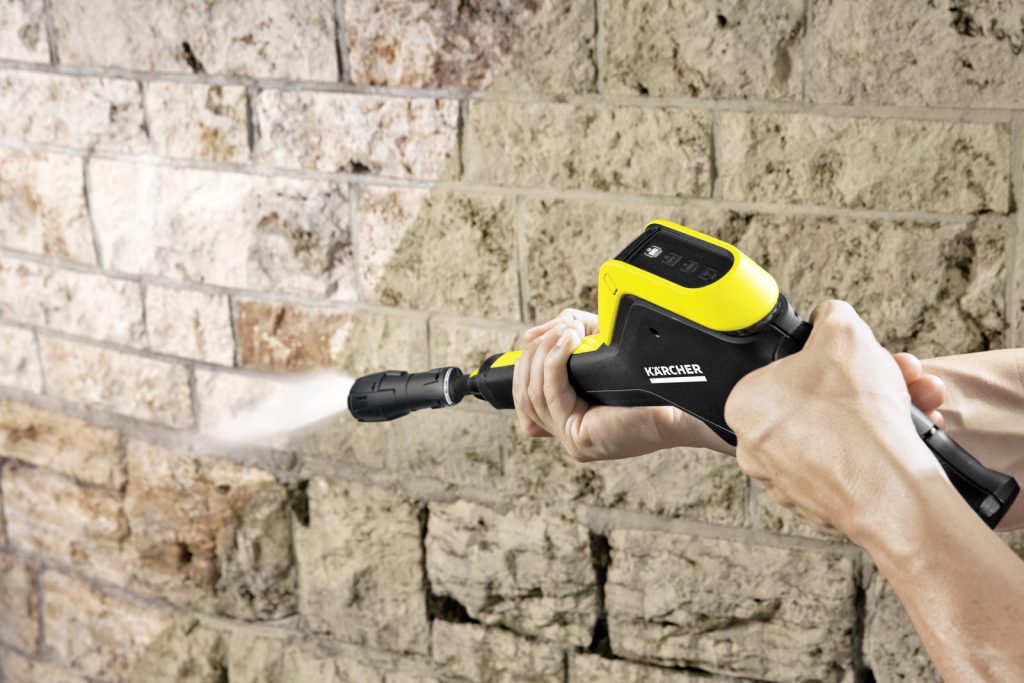 Kärcher models are equipped with a so-called Quick Connect System. This enables the quick connection of compatible components with a simple plugging together.
However, Kärcher devices are thus only compatible with the devices of their own brand. In 2008, the old "Quick Connect System", which is actually called "Sliding closure", was revised.
Therefore, it is necessary to check exactly which components can still be connected to each other.
To do this, simply enter the model numbers of the parts on the Kärcher website. Incidentally, the old connection can be made compatible with the Kärcher T Adapter Quick Connect.
Selected Kärcher pressure washer guns also have extensive additional functions and can, for example, regulate the pressure of the cleaner. These guns are only compatible with certain pressure washers, as the devices must be able to connect to each other. This information is also available on the Kärcher website and is called Smart Control.
What is the difference between lances and guns for pressure washers?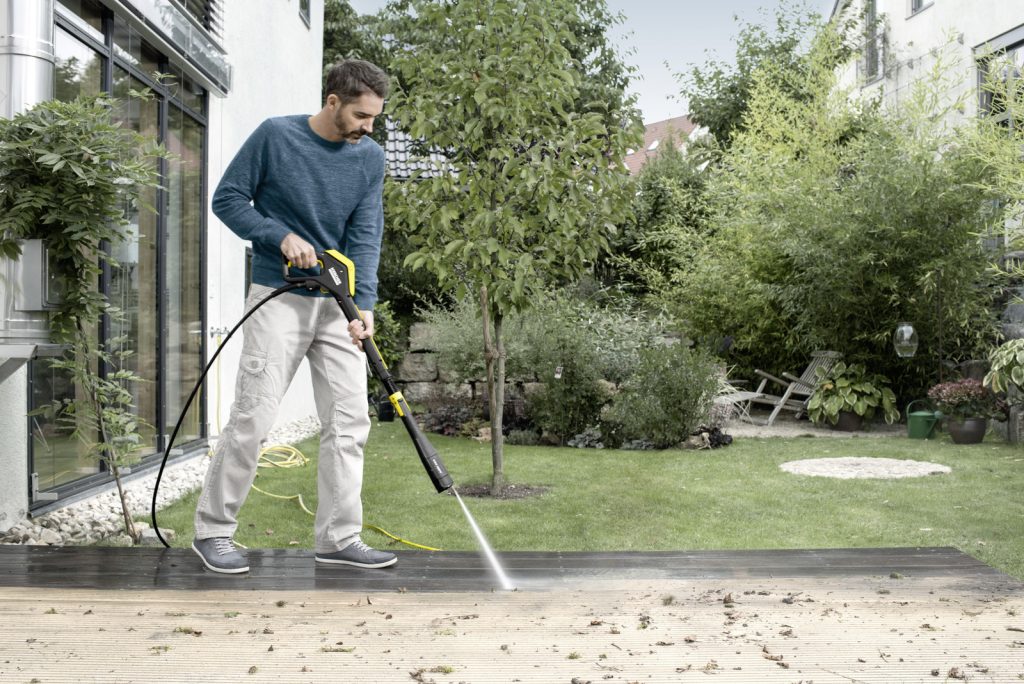 Strictly speaking, the term pressure washer gun only describes the handle to which the hose of the pressure washer is connected. However, many illustrations on the Internet show the gun already coupled with a lance.
However, such a lance is an accessory that can be connected to the pressure washer gun in a similar way to a surface cleaner.
Pressure washer guns and their accessories
Every manufacturer of a pressure washer always brings its own gun onto the market. Therefore, it is hardly surprising that the attachments of the pressure washer guns are usually not compatible with other brands. This is especially true for Kärcher, Bosch and other brands. Only professional companies such as Kränzle or no-name companies use standardised connections.
However, with the help of an adapter, most accessories can also be combined with other brands. The manufacturer Kränzle, on the other hand, uses a standardised M22 or R ¼ IG connection for its pressure washer guns. This means that they are generally compatible with everything.