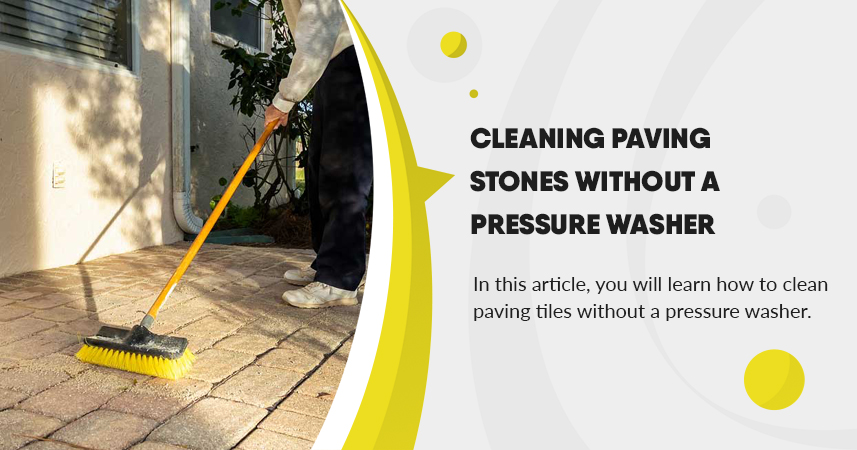 Paving stones can also be cleaned without a pressure washer, which has both advantages and disadvantages. Even though the convenience and effectiveness of cleaning with a pressure washer often outshines all other arguments, some aspects are worth considering. For example, loudness significantly limits operating times.
Manual method may suit the situation better
In some people's opinion, it is a bit like the mobile phones of our time. It has almost been forgotten that some tasks can also be done well without electrified support. This includes cleaning a paved driveway or a yard, which is increasingly only conceivable with a pressure washer.
More on the topic: Powerfully clean paving stones with a pressure washer
However, the supposedly outdated manual cleaning methods without machine assistance still have some advantages. In some situations, such as living with noise-sensitive neighbours, stylishly designed precious gravel joints and a limited budget, work and activities done by hand are a much better fit.
Advantages and disadvantages of cleaning pavements without a pressure washer
Advantages
No engine noise and no noise pollution (in the evening, on public holidays and at weekends)
No power consumption
No machine defects possible
Greater protection of joint filling compounds
Dirt can be dealt with in precise doses
No splashing of dirty water on walls or partitions
No purchase costs for high-pressure cleaners (disproportionate for small areas)
Disadvantages
Greater physical effort
More time required for large areas and heavy soiling
Higher water consumption
Shorter cleaning intervals to reduce stubborn soiling
Also of interest: Best Pressure Washer Under £100
Two practical working aids for cleaning pavements
Since cleaning substances seep into the soil through pavement joints, it is essential to use an environmentally friendly agent. Washing soda is alkaline and, except for human mucous membranes, non-toxic to the environment and living creatures. Mix ten grams of soda with one litre of water (if necessary, increase the amount in proportion) and bring to the boil. Spread on the patch with a brush, scrubber or broom with hard bristles, leave for six hours and rinse with clear water.
A water hose can be attached to a broom or scrubber handle with cable ties. This allows for permanent wet brushing and scrubbing without the need for a second person or arm contortions.
Do not use chlorine or chlorine-containing products. Follow the maxim that what you can safely pour into the soil of your favourite plants is also suitable as a cleaning agent for paving stones.