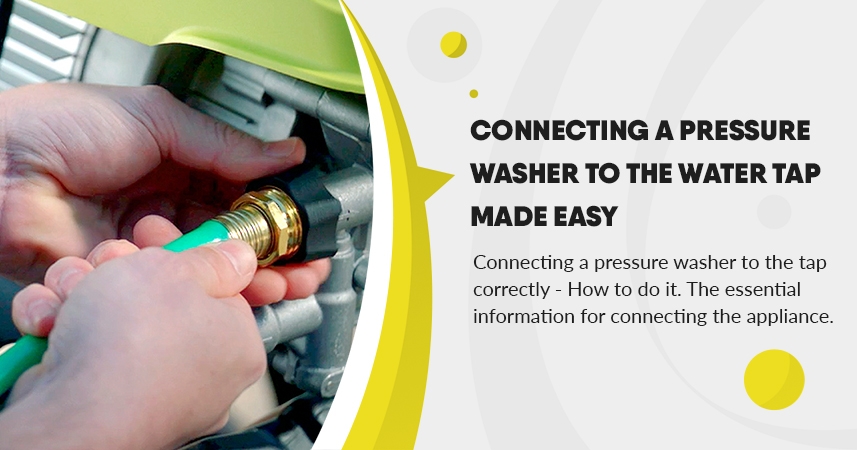 If you want to use a pressure washer, you need to connect it to the water supply. But there are various points to consider, because not every tap is compatible with the respective appliance. Fortunately, this problem can be solved quickly and inexpensively.
Selecting an adapter
Before you can connect the pressure washer to the water tap, you must select an adapter for it. However, this only applies to indoor taps, not in your garden, yard, workshop or garage. Indoor taps have a different diameter that is incompatible with most pressure washers. For this reason, a suitable adapter is needed.
You determine the size in a similar way to changing a seal, except that here you do not measure the seal itself. You must determine the thread diameter. To do this, you must first unscrew the aerator from the tap. Now take a ruler and measure the diameter of the thread. The following sizes are mainly used indoors in UK:
M22 (corresponds to 22 mm) internal thread
M24 (corresponds to 24 mm) external thread
Only rarely are other nominal sizes found. However, these could be a problem, as the adapters are usually made for these sizes. You can then look for a hose adapter from brands such as M MINGLE, Kärcher or Tool Daily. Once you have the utensil ready, you can connect the pressure washer to indoor water hoses. Of course, these are not intended for outdoor use and are not needed either.
Connecting the pressure washer: Instructions
1. Prepare the water tap
Before you can connect the adapter, you have to prepare the water tap. Again, you have to unscrew the aerator. It will open easily if you use pliers.
2. Do not forget the seal
You should not forget to take the seal out of the tap. If you have already repaired a dripping tap, you know that some seals are tighter.
3. Assemble and connect the adapter
After you have removed the seal, assemble the adapter according to the manufacturer's instructions. Depending on the product, this is done in a different way. The whole piece is now screwed onto the thread and fixed. After that, you can connect the hose of the pressure washer and use it in high levels without any problems.