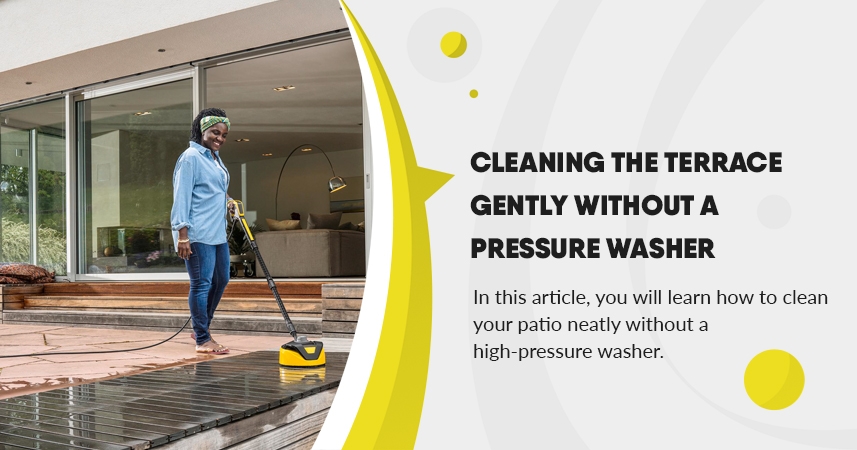 There are some floor coverings on the terrace that do not tolerate the water pressure from the high-pressure cleaner, or tolerate it poorly. To make cleaning effective without mechanical help, permanent care is very helpful. According to the motto "rather a little often" instead of "a lot at longer intervals", a terrace can be kept amazingly clean.
Material-related and taste-related decisions
The question of whether a patio should be cleaned with or without a high-pressure cleaner is often answered by the type of covering. While paving stones can often withstand the high-pressure cleaner, wood, natural stone and WPC react rather sensitively to high force.
As with cleaning paving stones without a high-pressure cleaner, there are often advantages or disadvantages due to external factors, according to which individual decisions are made in each case. The following floor coverings must be cleaned on patios:
Concrete
Brushing and scrubbing are the two methods and curd or stone soap the means of choice.
More on the topic:
Porcelain stoneware
The fired surfaces of ceramic tiles are very easy to keep clean. As on other smooth surfaces, this is where the rubber lip scraper or water squeegee comes into its own.
Wood
Washing soda diluted in hot water is the ideal tool for brushing and scrubbing wood.
More on the topic: Cleaning and maintaining a wooden terrace
Natural stone
Natural stone is sensitive to acidic substances and cleaning with a high-pressure cleaner can damage its structure and substance. Especially soft stones such as marble, limestone, sandstone or terracotta.
WPC
WPC (Wood Plastic Composite) is a composite material consisting of wood fibres and wood flour and the plastics polyethylene (PE) or polypropylene (PP). The mixing ratio varies between twenty and fifty percent plastic content. They can generally be cleaned with a high-pressure cleaner. Their lower breaking strength compared to other coverings, including wood, can cause damage. Wipe damp to wet on WPC, as with other plastic decking.
Some of the popular and often recommended home remedies as patio cleaners are unsuitable and cause more harm than good. For many types of decking (except WPC), these include acidic and acidic substances such as vinegar and lemon juice.
More on the topic: How do I clean the WPC with a pressure washer or electric brush?
If acute splashes of grease occur, for example when barbecuing on the terrace, baby powder or talcum powder sprinkled on immediately can absorb and set the grease. After one day, the powder is swept dry.