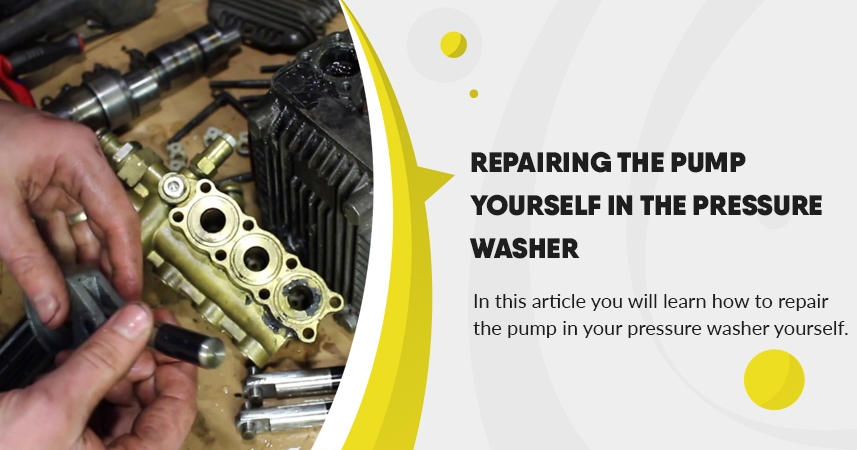 There are many phenomena and causes that can trigger a malfunction or even a functional failure in a high-pressure cleaner. The pump as the central compression unit is more rarely actually defective, but this is of course also possible. Repair requires expertise, including the use of a measuring device.
The complex construction of the pump
To be able to repair a pump in a high-pressure cleaner, there must be a basic knowledge of the electrics and measurements with a multimeter and how the unit works.
The pump includes the following components:
Mounting of the swash plate on the drive shaft.
Three piston chambers (each with the top filled with oil)
Pressure switch
Electric drive motor for the swash plate
Cable lugs
Carbon brushes with retaining spring
Capacitor
Pump housing
Pump head (water outlet)
Detergent valve with injector
Six valves (three pump and three suction valves mounted in pairs on top of each other)
Control piston
Control head
Swash plate
A frequent defect in the pump, according to experience reports, is a hairline crack in the control head.
Mechanics, hydraulics and carbon brushes
If the pump is defective, all hydraulically and mechanically working parts are first checked, cleaned, repaired and/or replaced. The repair of the pump itself is limited to the electrics and the carbon brushes.
Carbon brushes, also known as carbon brushes, are found in every motor and form the interface of the sliding contacts. A spring on the motor serves as a holder. If it is moved sideways, the carbon brushes can be pulled out. After inserting the new carbon brushes, the spring is pushed back into its original position. If the carbon brushes are in the right position, the motor will automatically stop.
Also of interest: Pressure Washer Repair and Troubleshooting
Measuring the electrics and checking the flow
To check the correct current flow, the wiring and switches must be re-measured with a multimeter.
Measure the cable circuits between the mains plug and the cable lugs on the pump (earth = green-yellow cable, current-supplying phase = brown cable, neutral = blue).
Measure any fuses in the unit and in the plug.
On/off switch and supply attachment point according to cable routing and between connection poles
Measure capacitor, if present, usually removable, and replace if necessary.
Before disassembling and dismantling the pump, take detailed photos so that you can later reassemble it identically.